ROGERS CADENHEAD
My Websites
My Books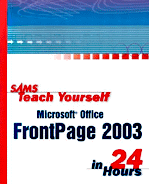 Welcome to the Web page for the book Teach Yourself Microsoft FrontPage 2003 in 24 Hours by Rogers Cadenhead. The fastest way to learn FrontPage 2003 is with the 24 one-hour lessons of this book, which provide hands-on experience with each feature of the software, including Web page design, themes, dynamic Web templates, Web components, Cascading Style Sheets, photo editing, XML, and much more.
Features
Use these links for information related to a specific hour in the book:
What's New
Most recent additions to this site:
Day 3: Read the full text of Chapter 3. (11-15-2003)
This site was launched (11-15-2003).
You also can keep up with this site by subscribing to its RSS feed with a RSS reader.