Podcasting: You're Soaking In It!
Jewish lesbian shock jock
Madge Weinstein
kicked my "S" yesterday during a 10-minute rant about Adam Curry's
role in podcasting
:
You gotta realize, and I didn't realize this until I started getting more popular with my podcasts, when people blog ---- -- ----, did I spill my water? no -- when people blog ---- -- I'm resting the microphone on my fat, now. You're going to get mike noise, I'm sorry, and it's going to be all bad. This is bad. You know, it's all bad. When people blog things a lot of times they blog it because they think a lot of people will read it, and it's as simple as that. And I think that's what Rogers Cadenhead did, the man with the extra S ...
I've attached her rant as a podcast, naturally. The actual audio doesn't contain Arthur Fiedler's theme from The Longest Day. I added it to test my theory that all podcasts would sound better with patriotic background music.
Randall Stross, New York Times, July 3, 2005:
"Podcast" is an ill-chosen portmanteau that manages to be a double misnomer. A podcast does not originate from an iPod. And it is not a broadcast sent out at a particular time for all who happen to receive it.
Steven Chen, China Daily, Sept. 8, 2005:
The term podcast, a portmanteau of two words, broadcasting and iPod, Apple Computer's now ubiquitous music player is something of a misnomer, since such files do not need either an iPod or a portable MP3 player to be played ...
Wikipedia's podcasting entry, Nov. 30, 2005:
"Podcasting" is a portmanteau that combines the words "iPod" and "broadcasting." The term is a misnomer since neither podcasting nor listening to podcasts requires an iPod or any portable player, and no broadcasting is required.
Chris Noon, Forbes.Com article, Dec. 7, 2005:
A "podcast" is at once a portmanteau; derived from the words "broadcasting" and "iPod", and a misnomer; neither podcasting nor podcast listening requires an iPod, and no broadcasting is really required. Even so, portmanteaux and misnomers are not precluded from appearing in the dictionary; hence the word's selection as the Word of the Year by the New Oxford American Dictionary.
The next word of the year should be originality.
A Hundred Visions and Revisions of Podcasting
I don't want to get into an argument with Adam Curry, because he has better production values. It was a relief not to be criticized in stereo during his 40-minute mea culpa on Friday's podcast of Daily Source Code.
I'm one of the only people who had no role in the history of podcasting. I was around when Curry asked Dave Winer to add the enclosure element to RSS and Radio UserLand in 2001, but I thought it was a dumb idea that would never go anywhere. My opinion was something along the lines of, "I think there is a world market for maybe five podcasts."
In a comment today to Stephen Downes, one of the people he edited out of Wikipedia's now-infamous podcasting entry, Curry admitted that it was intentional:
When editing the 'history' I didn't feel this was a significant contribution in the chronology as it did not influence me.

But as I have stated publicly, having seen actual video of the session where Kevin Marks demo'd a system similar to what I built 8 months later, I have to revise my position on all of podcasting's history. Audioblogging had it's place in there as well.

The process of 'truth' discovery through open wiki's seems pretty broken to me when I get 'outed' without some form of process among contributing editors with opposing views.
I think the truth discovery process is working about as well as it ever does on the web. Wikipedia's the perfect place for a tag-team, no-holds barred cage match of competing ideas. I'm glad this controversy is giving people like Downes, Marks, and Harold Gilchrist some attention. They were podcasting when podcasting wasn't cool.
Gilchrist especially has been overlooked in the mad dash for glory. When podcasting began to take off in 2004, he had two years experience delivering audio content in syndicated feeds and evangelizing the concept.
When the media fell in love with the idea that a former MTV veejay with full-bodied, luxuriant hair was the podfather, a lot of bloggers followed suit and Gilchrist was overlooked, much to his chagrin:
If you watch this Audioblogging video you will obviously see that the demostration and explanation of Audioblogging (circa 2003) gives credit where credit is due, explains and illustrates the use of enclosures with audioblogs and exactly explains Audioblogging the way you hear Podcasting explained today. Just a whole year earlier. The IPod is even mentioned with its tie to audioblogging and enclosures. ...

The day that the technology A bloggers started to tell the story about the invention of Podcasting without its ties to its Audioblogging history is the day that technology blogging jump the shark in my books.
Curry has challenged the Wikipedia concept in response to this situation, suggesting that it was reasonable for him to correct perceived errors on a subject he knew well, even if he did so anonymously. There's a way that well-known people can improve the encyclopedia without the entire Internet forming a line to kick their ass: Create a user account and make signed comments on an entry's discussion page.
Read the discussion page for Cory Doctorow to see a subject suggesting edits to his own biography, both large and small:
The picture is horrible. Any chance of a less supercilious looking one?
Adam Curry Caught in Sticky Wiki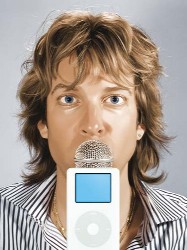 Former MTV veejay and podcasting entrepreneur
Adam Curry
appears to have been caught anonymously editing the
podcasting
entry on Wikipedia to remove credit from other people and inflate his role in its creation.
When someone edits Wikipedia without logging in to a user account, the IP address is recorded to guard against abuse. Four times this year, an IP address controlled by Curry, 82.108.78.107, has made revisions involving the early history of podcasting.
On Feb. 5, someone at Curry's address removed a sentence crediting Stephen Downes with distributing MP3 audio files over RSS:
The recovery of MP3 links from distributed weblogs and distribution of the aggregated list using RSS had been demonstrated by Stephen Downes's [5] Ed Radio [6], launched June 9, 2004.
On the same day, Curry wasn't getting sufficient props in another sentence, "Podcasting was developed, according to Curry [7] in August, 2004," and it was edited to correct this injustice: "Podcasting was developed thanks to Adam Curry's original iPodder script and the success it fostered since [7] August, 2004."
On Nov. 3, a sentence was removed that credited Kevin Marks with programming a podcasting script:
At the first Harvard BloggerCon conference, October 4-October 5, 2003, Kevin Marks demonstrated a script to download RSS enclosures to iTunes and synchronise them onto an iPod[6], something Adam Curry had been doing with Radio Userland and Applescript.
This paragraph also got the axe:
Curry's and Winer's podcasts, including several months of collaboration they called "Trade Secrets," spread interest in podcasting among other widely-read bloggers. Amateur blogs and open source developers continued as important factors in the popularization of podcasting before and after professional broadcasters and entrepreneurs with business plans adopted the form.
These edits were spotted by Marks and Wikipedia editor Jeremy Hunsinger, who remarked, "For some reason a person at 82.108.78.107 keeps removing vital material that explains some of the history of the development of podcasting."
I was appointed to the RSS Advisory Board in 2004 at the same time as Curry, so you might expect that I'd have a personal perspective on the glory hog. But we've never really worked together. The only contribution he made on the board, appropriately enough, was to write his member bio.
By my recollection, Curry sparked the podcasting boom in three significant ways: He persuaded Dave Winer to add the enclosure element to RSS 2.0 in 2001, created a popular podcast and released an Applescript hack as open source that led to the first standalone podcasting client. But he was never a developer on iPodder (now known as Juice), so he might want to squeeze those guys into the encyclopedia on his next editing run.
C-Span has begun
podcasting
on a trial basis, offering three weekly programs: The current events interview shows
American Perspective
and
Q&A
and the Book TV interview show
After Words
.
The copyright notice for the podcasts makes note of something that's often misunderstood about C-Span -- the programs are not in the public domain:
Except as specifically permitted by this policy, C-SPAN's RSS feeds and audio files may not be used for any political, commercial or otherwise unauthorized purpose. Any posting, retransmission, sale, public performance or other unauthorized duplication of the audio files is strictly prohibited.
C-Span is produced by a non-profit corporation set up by the cable industry that receives no government funding. All of its content is protected by copyright and the network explicitly forbids redistribution on the Internet.
Sixth Singer Joins Podcasting Choir
Mark Pursey has become the
sixth member
of the Creative Commons Choir, the asynchronous podcasting singing group that's now one-sixtieth as large as the
Mormon Tabernacle Choir
.
I'm disappointed that the music press has yet to take note of our new genre, which takes MIDI orchestral accompaniment of Dixie to a place no one could have imagined.
When our choir stops growing, I will go the Jandek route and self-release this song commercially, putting all choir members one step closer to membership in the Recording Academy.
Anyone with a credit on six commercially released tracks can pay the $100 yearly dues and receive voting rights in the Grammy Awards and other perks. I just have to find one store on the planet that will sell us.
Even Further Down South
Rex Hammock has become the fifth member of the
Creative Commons Choir
, adding his voice to the
singalong podcast
of "Dixie."
My vocals were receding deeper into the background with each version, so I'm pleasantly surprised to hear more of myself in Rex's edit. I also like the shotgun blast sound he makes at the end, which I interpret as a metaphorical attempt to put a sick dog out of its misery.
He'd love to hear an asynchronous podcasting choir that had the sense to exclude the five of us:
... this is a great idea for some serious choral folks and acapella enthusiasts (translation: people with talent) to experiment with. Post the music arrangement and some MP3 masters for each vocal part, and then invite folks to send in their part.
Old-Time Radio, Way-Nu Format
I'm helping
Yesterday USA
, the first old-time radio station on the Internet, start podcasting its programs.
The station has been produced for 22 years as a labor of love out of the home of Dallas audio engineer Bill Bragg, who's better known these days as the voice of Big Tex.
YUSA broadcasts 23 shows that already sound like podcasts. They're 30- to 90-minute programs created by listeners who briefly introduce the old-time radio shows and music they love, with little editing, polish, or pro-radio fakery. One of the longtime hosts is the singer Ronnie Millsap.
In order to podcast, YUSA needs a Visual Basic component that converts WAV files to MP3 and then uploads the resulting files to a web server.
I don't code much in VB, so I'm having trouble trusting the free code I've found on the Internet to perform the MP3 conversion.
An ActiveX component from United Research Labs looks promising, as you can see from the documentation for a WaveToMp3 function.
Before I encourage YUSA to shell out $299 for the license, I'd like to find some Visual Basic coders who can tell us if there's a cheaper alternative.