ROGERS CADENHEAD
My Websites
My Books
Add a Hyperlink
This is part of Chapter 3 of the book Sams Teach Yourself Microsoft FrontPage 2003 in 24 Hours by Rogers Cadenhead, published November 2003 by Sams Publishing
Any text or graphic on a Web page can have a hyperlink associated with it. The link can point to another page or file on the same Web site, a different site on the Web, or any other resource that has an Internet address.
To add a hyperlink to a picture, follow these steps:
Click the picture. Small handles appear at the corners and sides of the picture to indicate that it has been selected for editing.

Click the Insert Hyperlink button on the Standard toolbar. The Insert Hyperlink dialog box opens, as seen in Figure 3.5. This box can be used to select several kinds of links:


If the link is to a Web page or another file on your computer, use the dialog box to find and click that file. Its name appears in the Address field.

If the link is to an email address, click the Email Address icon in the Link To pane. The dialog box display Email Address and Subject fields. Fill these in.

If the link is to another Web address, type it in the Address field (or copy the address from your Web browser's Address bar and paste it in the field). To open your Web browser and look for the right address, click the Browse the Web button.


Click OK.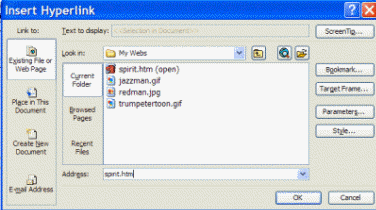 Figure 3.5
Adding a hyperlink to a graphic.
You'll learn more about organizing sites in Part II of the book, "Designing an Entire Web Site."
Chapter 3: