We here at Studio B did not run the video and did not reference the story in any way for many reasons, among them: we didn't know who shot it, we didn't know when it was shot, we didn't know the context of the statement, and because of the history of the videos on the site where it was posted, in short we do not and did not trust the source.

-- Fox News anchor Shepard Smith on Andrew Breitbart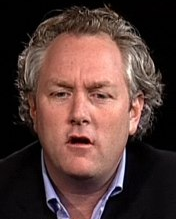 By virtue of publishing the Drudge Retort, I've been following the career of Andrew Breitbart for more than a decade. His rise to prominence from Matt Drudge's uncredited collaborator to liberal-hating firebrand has been quite remarkable, given the fact that he's just a self-made web publisher who never held a job of any importance in media, politics or academia.
By his own admission, he was an aimless and frustrated college graduate in the mid-'90s when he discovered the Internet and decided to reinvent himself on it:
"I said to myself, 'O.K., you are going on a date tonight, and you are not going to bed until you have gone all the way.' And I remember hooking up to the World Wide Web that night, and it was a revelation. It was just like shooting yourself into outer space, and trying to latch onto anyone else who was out there. I remember finding weather sites and earthquake sites, and being able to monitor earthquakes in real time, and that was weirdly invigorating."
I did not expect that Breitbart would rise as far as he has, but now that he's obliterated his reputation with an ugly racial smear against a decent woman in government service, I think the seeds of his destruction have been in place for years.
A little over a year ago, I wrote about how enraged he is all the time:
All external indicators would suggest that Breitbart has a lot to be happy about, but I've followed his work for years and he operates in a constant state of anger at the perceived mistreatment of conservatives, particularly in Hollywood. Since he's around my age, he's lived during an era in which the right wing was ascendant in American politics. I'm not sure he could have survived the '60s and '70s, back when conservatism was the marginalized ideology of Barry Goldwater and washed-up B-movie actors.
Four months ago, I documented how Breitbart has been lying to the media for years:
... Breitbart [has] the good fortune to work in online agenda-driven journalism, where no one is ever held accountable for being wrong. Breitbart lied back then, lied about the ACORN sting and will probably lie in furtherance of the next scoop he peddles to the mainstream media.

He can't be trusted.

I wonder how long it will take the Times and the rest of the major media to figure that out.
There are political points I could score here, since Breitbart's hatred of liberals makes it satisfying to enjoy his fall from grace. But as a self-made web publisher myself, I find it disappointing that he won't simply apologize to Shirley Sherrod and admit a mistake.
He managed to turn his association with Drudge into a huge media platform and doesn't have to answer to anyone. There's no reason he has to be as nakedly self-preservational as the major media, the way the New York Times and USA Today acted when caught publishing Jayson Blair and Jack Kelley's fictional news stories, as if the entire reputation of the papers would collapse like a house of cards if they engaged in open self-criticism.
Breitbart is his own boss. He appears to be rolling in dough. He has Founding Father hair. What good is being a self-employed media mogul if you can't admit you screwed up and try to make it right?
Related:
Scott Rosenberg: "The problem with Breitbart is not that he is an activist in journalist clothes, but rather that he is a serial purveyor of deceptions who is somehow still viewed as a legitimate source by some of his colleagues in the media."