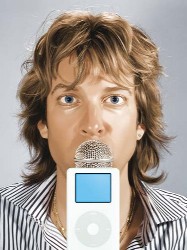 Former MTV veejay and podcasting entrepreneur Adam Curry appears to have been caught anonymously editing the podcasting entry on Wikipedia to remove credit from other people and inflate his role in its creation.
When someone edits Wikipedia without logging in to a user account, the IP address is recorded to guard against abuse. Four times this year, an IP address controlled by Curry, 82.108.78.107, has made revisions involving the early history of podcasting.
On Feb. 5, someone at Curry's address removed a sentence crediting Stephen Downes with distributing MP3 audio files over RSS:
The recovery of MP3 links from distributed weblogs and distribution of the aggregated list using RSS had been demonstrated by Stephen Downes's [5] Ed Radio [6], launched June 9, 2004.
On the same day, Curry wasn't getting sufficient props in another sentence, "Podcasting was developed, according to Curry [7] in August, 2004," and it was edited to correct this injustice: "Podcasting was developed thanks to Adam Curry's original iPodder script and the success it fostered since [7] August, 2004."
On Nov. 3, a sentence was removed that credited Kevin Marks with programming a podcasting script:
At the first Harvard BloggerCon conference, October 4-October 5, 2003, Kevin Marks demonstrated a script to download RSS enclosures to iTunes and synchronise them onto an iPod[6], something Adam Curry had been doing with Radio Userland and Applescript.
This paragraph also got the axe:
Curry's and Winer's podcasts, including several months of collaboration they called "Trade Secrets," spread interest in podcasting among other widely-read bloggers. Amateur blogs and open source developers continued as important factors in the popularization of podcasting before and after professional broadcasters and entrepreneurs with business plans adopted the form.
These edits were spotted by Marks and Wikipedia editor Jeremy Hunsinger, who remarked, "For some reason a person at 82.108.78.107 keeps removing vital material that explains some of the history of the development of podcasting."
I was appointed to the RSS Advisory Board in 2004 at the same time as Curry, so you might expect that I'd have a personal perspective on the glory hog. But we've never really worked together. The only contribution he made on the board, appropriately enough, was to write his member bio.
By my recollection, Curry sparked the podcasting boom in three significant ways: He persuaded Dave Winer to add the enclosure element to RSS 2.0 in 2001, created a popular podcast and released an Applescript hack as open source that led to the first standalone podcasting client. But he was never a developer on iPodder (now known as Juice), so he might want to squeeze those guys into the encyclopedia on his next editing run.