This is part of Chapter 2 of the book Radio UserLand Kick Start by Rogers Cadenhead, published by Sams Publishing
Editing Your Preferences
Radio's weblog editor, like the rest of the software, is highly configurable. You can change the number of previous posts shown on the desktop home page, opt out of Weblogs.Com notification, and tailor it in several dozen other ways.
To see what you can change, click the Prefs link atop any desktop Web page.
Several preferences affect the weblog editor.
The Previous Posts preference determines how many recent entries to display below the editing box on the desktop home page.
The Participate in the Weblogs.Com community? preference determines whether your weblog will show up on that site each time you update.
Weblogs.Com is one of the most popular sites in the weblogging community; it comes up first in a Google search for the term "weblogs" and receives thousands of visits each day.
Using Weblogs.Com attracts two kinds of visitors: People who scan the site's update list for sites to read and software robots looking for sites to add to Google, weblog directories, and other services.
The Three buttons or one? preference makes the publication of weblog entries a two-step process, replacing the Post to Weblog button with three buttons: Post, Publish, and Post & Publish (Figure 2.8).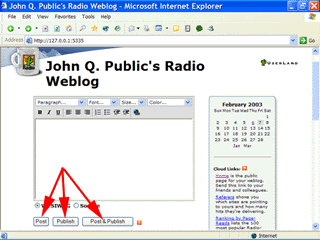 Figure 2.8.
Submitting weblog entries. (Enlarge)
The Post button stores an entry in the WeblogData.root database but does not publish it on the Web. This enables an entry to be saved while it's still being worked on, links and formatting are being double-checked, and other fastidious behavior.
The Publish button publishes all unpublished entries, updating the Web pages and XML files on your weblog that contain them.
The Post & Publish button combines both of these steps.
Chapter 2:
Editing Your Preferences