My First Trip into a Debate Spin Room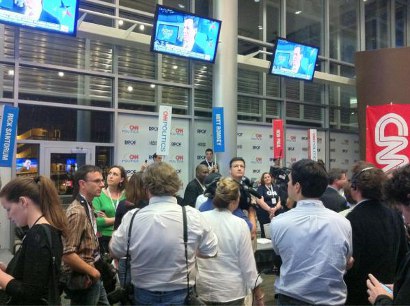 I was granted media credentials by CNN to report on the GOP presidential debate last night in Jacksonville for the Drudge Retort, the first time I've had the opportunity to cover a debate. The University of North Florida squeezed around 400 journalists into a campus ballroom, putting online media together in one corner. I was sandwiched between the Huffington Post and The Guardian.
A misprint on a sign led the British journalist Toby Harnden to think that Matt Drudge had come up from Miami to attend. When Harnden came over looking for the international newsman of mystery, I had to break it to him that instead of Drudge, he'd found me. He did not mask his disappointment.
The debate began with the National Anthem, which inspired only one in four of the journalists around me to stand up, though some of them were foreigners and are thus excused. A woman down my row from the conservative American Spectator rocketed out of her seat with patriotic super-speed.
During the debate, the second-loudest laugh was when Newt Gingrich began answering Wolf Blitzer's praise-your-wife question by complimenting the other candidates' ladyfolk instead. "I think all three of the wives represented here would be terrific first ladies," he said. The guy can't help himself. He just likes wives.
The loudest laugh was in the final answer of the night, when Gingrich referred to Saul Alinsky. Journalists laughed so hard at the mention of the name you'd think a drinking game was going on.
After the debate, I walked one floor downstairs to the spin room, where each candidate sent spin doctors to explain how his guy just mopped the floor with those other no-hopers. The first to arrive was former Minnesota Gov. Tim Pawlenty, sporting an impeccably tailored suit and a Mitt Romney lapel button to identify his allegiance. The reporters crowded 20 deep around him, and I quickly found myself experiencing body contact that's a sin to Rick Santorum.
I retreated to the peaceful solitude around Ron Paul's spinmeister, his national press secretary Gary Howard. I asked him this: The University of Chicago asked 37 economists if it was a good idea to return to the gold standard. All 37 said no. If returning to the gold standard is such a good idea, why is it that no mainstream economists agree with Rep. Paul?
Howard challenged me to identify the economists. "I need to know who these economists are," he said. "They could all be Keynesians."
Another reporter asked Howard how Paul, the leading vote-getter among Republicans under 30 despite being the oldest candidate in the race, had so successfully targeted young voters.
"I think they targeted us," Howard replied.
After asking questions of Bill McCollum and J.C. Watts, I approached Fred Thompson but something he was asked by another journalist caused him to skeedaddle. A reporter for Mother Jones blogged, perhaps jokingly, "I asked Thompson to speak about Gingrich's stance on the regulation of reverse-mortgages. He didn't respond."
A lot of the media kept asking process questions -- "how'd your guy do?", "will he win Florida?", "will he drop out if he doesn't?", blah blah blah -- so I stuck to issues.
The crowd thinned around Pawlenty, so I asked him about Lynn Frazier, the Jacksonville woman who had lost her job and could not afford health benefits. I thought this was the best question in the debate and the least adequately answered. The Republicans running for the White House love to talk about repealing President Obama's health reform but aren't saying much about what they'd do afterward for the 1-in-6 Americans who are uninsured. Frazier explained her circumstances and asked the candidates, "What type of hope can you promise me and others in my position?" The responses she received didn't offer anything more concrete than getting a tax deduction on purchasing insurance for herself as an individual. Paul's answer was particularly bleak. "Well, it's a tragedy because this is a consequence of the government being involved in medicine since 1965." I guess the uninsured need a time machine.
When I asked Pawlenty if Frazier should be happy with the answers she received, he said yes because Romney will bring down the costs of health insurance as president. "We need to make health insurance more affordable," he said, mentioning the tax deduction again.
I followed up by asking about people who can't obtain insurance at any price because of pre-existing conditions, one of the main problems addressed by Obama.
He replied, "Mitt Romney will be making it so people aren't excluded by pre-existing conditions."
After this, I horned in on a conversation Bay Buchanan was having about Newt Gingrich's body language during the debate. The first time Romney took shots at Gingrich, he stared daggers at him and Gingrich wouldn't make eye contact. After watching Gingrich silently debate his own shoes while Romney scolded him, I thought it was going to be a long night for the Speaker.
"That was extremely weird," said Buchanan, who is way hotter than her brother Pat.
When around 45 minutes had passed, the last of the spin doctors all left, like people at a family gathering who realize if they stay any longer they'll be asked to help clean up.
New York Post Smears Occupy Wall Street Mom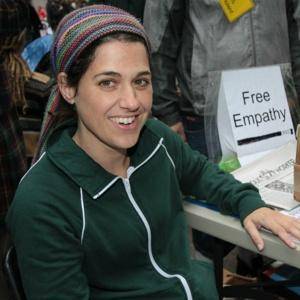 The New York Post is running a story today about Stacy Hessler, a 38-year-old Florida mom who's gone from her family while she takes part in the Occupy Wall Street protests at Zucotti Park. Hessler is raising four children at home with her husband in DeLand, Fl., but she came to New York City to join the protests on Oct. 9 and has no plans to leave:
I have no idea what the future holds, but I'm here indefinitely. Forever. ... Military people leave their families all the time, so why should I feel bad? I'm fighting for a better world.
The story makes it sound like she's just ditching her family, especially the nudge-nudge part about "keeping herself warm at night" in a tent with a male protester. The right winger Jonah Goldberg calls her mom of the year on National Review Online. When I read the Post story this morning, I used snap judgment skills honed in a decade of blogging to conclude that momma's getting her freak flag on.
But her Facebook wall tells a different story. She's extremely involved in her childrens' schools and sports and has posted hundreds of photos of the kids engaged in family outings. Hessler made this post when she decided to turn her week-long stay into something longer:
I have a plea for my friends. I need your help and support. I want to stay occupying wall st. I feel my presence is very important in the support of non-violent communication and sanitation(keeping the park clean) I am willing to work tirelessly on these efforts. I need help with getting my kids to activities and stepping up with the things I help lead, such as one small village, jr roller derby, bee-attitudes, 4H, for his glory co-op. Please respond if you are willing to help my kids so I can stay here and help this movement. I have a train ticket for tomorrow that I want to change but I need to know I have support from my community back home for my family in order to change the ticket.
No less than 12 of her friends are offering to help out. Sound like a bad mom to you? As Hessler's story is fed into the media sausage mill, I hope some reporters do a much better job telling it than Kevin Fasick and Bob Fredericks in the Post.
Right Whale Dies Off St. Augustine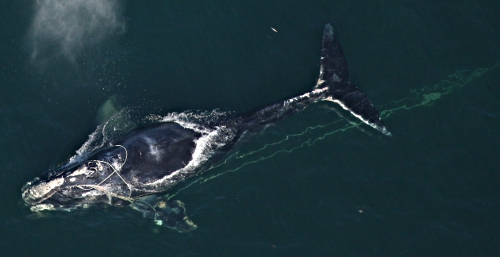 On Dec. 30, 2010, a team of federal and state biologists rescued a severely entangled North Atlantic right whale off the coast of Daytona, Florida. The whale, born during the 2008-09 calving season, was one of 300-400 left in existence from a population that once numbered in the tens of thousands. (Click the picture to see a high-resolution JPEG photo.)
The female whale had become caught in more than 150 feet of fishing rope and wire mesh, some stuck in its mouth. This was causing it feeding difficulties that left the creature undersized.
On Jan. 15, 2011, the team sedated the same whale, slowing it down enough to remove 50 more feet of rope.
Sadly, the whale died this week and its body was towed to shore on Butler Beach south of St. Augustine late Wednesday night. I drove out yesterday to see the whale and witnessed a team of around 20 people conducting an autopsy and dispensing of the whale's remains.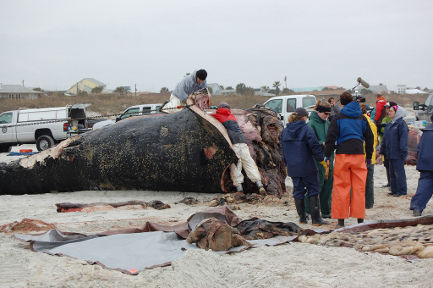 I've shared the photos I took on Flickr. They're not for the squeamish. The whale was so big they had to use a backhoe to pull it apart. One guy stood atop it with a machete and others climbed inside the animal, a gory process that was surprisingly bloodless. By the time I stopped by a few hours later with my son Max, almost all that was left was a 20-foot long truckbed filled with whale bones. It looked like the remnants of a giant rib dinner. The smell downwind of it was horrible.
I've been following the news of this whale for weeks, so it was depressing to learn that it didn't make it. I'm currently looking for opportunities to help the whales, who come south every winter from December to March to give birth to calves. The blog North Atlantic Right Whale Watch has more pictures and information on how to volunteer as a whale-spotter here in North Florida.
Democracy: The Least Bad Option
A comment on a Florida news site about Florida's gubernatorial election:
to all those complaining about cott, do you have an alternative other than Sink? Cause Sink is the main reason I voted for Scott. I dont trust either one of them, but Sink, I didnt even see the whites of her eyes, she was always squinting for some strange reason. Reminded me of Nancy Pelosi.
That person's vote counted as much as mine.
Photographer Makes Weighty Request
Philip Greenspun, an MIT computer science teacher who founded the photographic community Photo.Net, has posted an unusual request on his weblog:
I'd like to get some pictures of fat people eating (example1; example2). I'm in Orlando and it seems like an ideal opportunity to combine two quintessentially American themes: obesity and theme parks. Also, a theme park is a great place to walk around with a big camera and lens without attracting attention. I would like to find a theme park where there are a lot of restaurants, a lot of fat people (aside from myself), and most of the restaurants have outdoor seating.
He believes that diet pills will emerge in the future that make today's fat people a historical curiosity in the year 2100.
I've been to Orlando dozens of times. When you need to add blubber to prepare for the harsh Florida winter, the best places I've found are the Chevy's Tex-Mex at the Crossroads shopping center on State Road 535, the Wolfgang Puck Cafe at Downtown Disney and the Rainforest Cafe outside Animal Kingdom.
Crash Kills 2 Teens in Jacksonville
There was a terrible two-car accident in Jacksonville Sunday night that left two teens dead and five other people hospitalized with serious injuries. Around 8:30 p.m., a Chevy Silverado going north on Phillips Highway near the Avenues Mall collided with a southbound private ambulance turning left near Interstate 95. The truck's driver, 19-year-old Michael Linder, and his 18-year-old girlfriend Megan Bunn died from injuries sustained in the accident. Florida State Highway troopers told News4Jax that no one in the truck was wearing a seat belt.
I was driving north on Phillips Highway at the same time as the teens, and at around 8:30 I was turning onto Southside Boulevard no more than 1,200 feet before the intersection where the crash occurred. I didn't see or hear a collision. When I returned to the highway 30 minutes later after an errand, the road was completely shut down and police and ambulances were all over the place.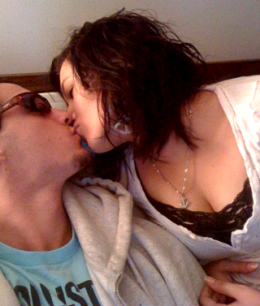 Megan Bunn had an active MySpace page with lots of pictures of a person just getting started in her life. One titled Me and You is presumably her and Linder. The page records her last login as 11/29/2009, the day of the accident. One of her recent status messages reads "my life makes me laugh till the day im dead."
The cause of Sunday's crash has yet to be determined. The ambulance driver has reportedly told police he had a green light when he turned and the damage to the truck indicates that it must have been going pretty fast. Police are looking for eyewitnesses, but I did not notice any vehicles driving in an unusual manner.
I used to read about tragedies like this and see myself in the participants. Now I think more about how my oldest son is two years from legal driving age. I don't know how parents muster the courage to send their children out in motor vehicles. When you are a teen, it's difficult to let go of the idea that you are indestructible. I'm a neurotic person with a highly developed sense of caution, but at age 18 I can recall being stupid a few times behind the wheel. One incident in particular -- when I was leaving the Starck Club in Dallas and had a near-miss accident on Interstate 30 in the middle of the night -- convinced me to never drink as much as a single beer if I'm going to be driving. My heart goes out to the families of the people involved in this accident.
The First Coast News story I linked contains a lot of unkind speculation from readers, which seems to be the norm on newspaper and TV station web sites. I don't understand why there's so little humanity in the reader forums of local media. Even though several friends of Been and Linder have participated in the discussion, it hasn't stopped some people from being incredibly cruel.
Media sites attract vicious commenters. When my college friend Bill Muller died two years ago, he was the longtime film critic for the Arizona Republic and the paper ran a feature obituary about his many accomplishments in journalism. Here's the first comment it received, which is still online today:
While my sincere condolences go out to Mr. Muller's family & friends, it is my greatest hope that the paper will replace him with a film "critic" who actually LIKES movies that normal people go to see rather than the "artsy-craftsy" c-r-a-p that always get rave reviews. ...
I don't understand why blogs like this one attract kinder communities than the ones on local newspapers, where the audience is an actual community. You'd think people would be nicer to their neighbors.
I Ruined Blogging for the St. Augustine Record
Peter Ellis, the editor of the St. Augustine Record, recently began a blog with an angry post that suggests he is starting his new site under duress:
My first encounter with a blogger was a miserable experience. He reported stuff on his blog about The Record that was wrong and then urged bloggers across the country to write me to complain. Many of them did, even though most of them had never heard of the St. Augustine Record.

That left a bad taste in my mouth about bloggers. Since then, I've read quite a few blogs and, with some delightful exceptions, most are awful. So I enter the world of blogging gently, knowing that many who have gone before me have failed.

My goal is to write about what happens in the newsroom, why we make the decisions we do and, I hope, get into a conversation with you about The Record and our work. I won't write about my family, my dog, my old convertible and my golf game. They all fascinate me, but I'm pretty sure they won't do the same for you.

What I will talk about is journalism at The Record. I hope you'll join me in the conversation.
He's talking about me. In 2007, I wrote about the Record when it tried to expose the identity of a local blogger who was critical of a county commissioner, and my story was linked by Romenesko, attracting attention from some journalists and bloggers across the country. I posted a follow-up about how Ellis was telling people that the blogger was a front for an organized group but the paper never ran a story revealing his identity or that of the supposed group.
As a longtime reader of the Record, I thought it was inappropriate for the paper to release its own security video of the unnamed blogger, who had bought a display ad in the paper to get his message out, and conduct a manhunt as if he was a criminal. The factual basis for the ad was backed up by the paper's own reporting.
When Ellis posted a comment on my blog, I contacted him to confirm his identity and we got into a bitchy email exchange. He told me "you don't have a lot of credibility with me," I responded that my web traffic could beat up his web traffic and he kept telling me that my blog was incorrect without pointing out any actual error. He finished the exchange with this comment: "You're wrong across the board, and you know it. Please don't write to me anymore."
So now I learn that not only was I wrong in some still-unspecified way, but my wrongness proved to be a formative experience for him.
This isn't the first time I've made a professional journalist mad about what I wrote on Workbench, which I enjoy because turnabout is fair play. But I didn't encourage people to complain to Ellis. I just related the facts as I knew them, gave my own opinion and some bloggers evidently contacted him because they objected to what his paper was doing. It's ironic that a journalist with 37 years experience would play shoot the messenger when he doesn't like the consequences of somebody else's reporting.
Although this would appear to be another battle in the war between journalists and bloggers, as I begin my eleventh year of blogging I don't think the distinctions matter any more. He appears to see bloggers as a self-fascinated and awful group, but these days millions of people have blogs, Twitter accounts and social media sites. Everybody gathers and shares information. The world I went to college for, in which a trained priesthood of journalism school graduates are the primary dispensers of the news, doesn't exist any more.
I enjoyed the days when profits were fat and journalism jobs were plentiful, but I'm glad to live at a time when any outspoken person with a web site has the opportunity to put the local newspaper editor on the defensive.
Florida Poll Worker Challenges My Right to Vote
When I voted at 7:10 a.m. this morning in St. Johns County, Florida, my right to vote was challenged because a poll worker decided my signature did not match my driver's license signature. I was given an "Affadavit of Elector When Signature is Different" form to sign and was going to be given a provisional ballot, but I objected to that decision, telling the worker that I've been voting at the same precinct with the same address for a decade and they were "abrogating my right to vote." (When negotiating a government bureaucracy, the most obscure verb wins.)
In Florida, provisional ballots aren't counted unless they are approved by a canvassing board. My wife has observed the work of these boards as a newspaper reporter, and it's an arbitrary and capricious process. I decided at that point I wasn't going to leave the polling place until I was able to cast a legitimate ballot or I was ordered to leave. I don't want to look back on this election, years later, as the one in which I might or might not have voted for Barack Obama.
I always bring my sons to vote, so my fourth grader was at my side, telling the worker that my signature was acceptable. My mother was visiting from Texas, and she also walked up and affirmed who I was, which demonstrates how thorough I am at providing proper forms of ID.
A supervisor at the precinct discussed the decision to make me vote provisionally with a poll observer, who I'm guessing is an attorney because he wore glasses on a chain perched on the end of his nose, like someone who might be called upon to inspect a hanging chad. He told her, "The issue here isn't whether the signature matches; it's whether he is the person he says he is." He then told me not to move, because he was going to go outside and make a call.
He didn't have to go outside. The decision was made that I could fill out a form that reflected my updated signature, and I was given a regular ballot.
Though my signature has grown progressively worse over time -- millions of mouse clicks have been hell on my mad cursive skills -- it's clear to me that poll workers in this county are being told to apply strong scrutiny to signatures. This seems excessive to me when the state requires a driver's license to vote, and I had my license and voter's registration card with me. Eight years ago a worker also challenged my signature, but another worker told him he was wrong. Individual votes in Florida were a pretty big deal that time around.
When I was leaving the building, a poll worker who was not a witness to the challenge told me unexpectedly that I should "put this on your blog." Apparently, he overheard my wife talking about the situation and mentioning that I'm one of those people.
As a general rule, I resist the temptation in commercial or governmental conflicts to play the blogger card, because I don't want to be the douchebag who doesn't get the banana peppers he ordered on his pizza, so he threatens Domino's with the dire consequences of a strongly worded blog entry on a site with Google page rank 6.
But this was so going on my blog.
Arguing Politics During My Vasectomy
To give you an idea of how tough my wife is, she delivered two of our sons via natural childbirth, skipping out on epidural anasthesia in the belief it's better for the baby. One son was 11 pounds and three ounces. When he hit the birth canal, her screams were so loud that I asked for a sedative to calm my nerves. Nurses stuck around after their shifts to find out how much he weighed.
To give you an idea of how tough I am, I researched vasectomies for five years before consenting to the procedure. You can't be too careful about these things. I wanted to give the medical community time to work out the kinks.
So it's last Friday, and I find myself at Planned Parenthood in Jacksonville, lying flat on my back with my pants around my ankles, trying to find my happy place. A urologist begins handling up on my junk, explaining each step in the process with the unabashed enthusiasm of Bill Nye the Science Guy.
Desperate to change the subject, I look away from my imperiled dingus and tell the doctor about a problem I had completing the online registration on his web site. The components of the web form disappear on Mozilla Firefox when you begin to input data. I had to switch to Internet Explorer to get it to work. He seems interested. We lament cross-platform browser incompatibilities and get into a debate about whether Safari or Firefox is the second most popular browser among users. He lays a surgical drape around my genitals. I let him win the argument.
I tell him that I publish sites, and when he asks which ones I am faced with a socially difficult decision: Do I tell the person approaching my wang with a cauterization tool that I publish a stridently liberal web site?
Keep in mind that we're in conservative North Florida, where doctors and just about everybody else are rock-ribbed Republicans and the presidential campaign's getting angrier by the day. Some of my neighbors in this right-wing community are finding it difficult to accept that a Democrat might win the White House. They thought a cure had been found for that disease years ago.
I bite the bullet and tell the doctor about the Drudge Retort. My wife, who's in the room observing the surgery without an ounce of squeamishness, visibly winces.
The doctor's Douglas G. Stein, a Tampa urologist who offers a no-scalpel, no-needle vasectomy procedure that's advertised throughout the state. His web site offers more reassurance to fearful patients than my wife was ever offered before childbirth. I'm not the only guy with a heightened sense of anxiety regarding my tallywacker.
How is vasectomy done without a scalpel?

No-scalpel vasectomy instruments, used in China since the mid-70's and introduced into the United States in 1989, are simply a very pointy hemostat, used initially to make a tiny opening into anesthetized skin of the scrotal wall, and a ring clamp, used initially to secure each vas tube in turn beneath this opening. The pointy hemostat is then used to spread all layers (the vas sheath) down to the vas tube itself and to then deliver a small loop of the vas through the opening as the ring clamp is released. In turn, the ring clamp is used to hold the vas, while the pointy hemostat spreads adherent tissue and blood vessels away from the vas under direct vision, so that the vas can then be divided with a fine surgical scissors and the upper end cauterized with a hand-held cautery unit so that it will seal closed.

How is vasectomy done without a needle?

Traditionally, a local anesthetic has been injected into the skin and alongside each vas tube with a very fine needle, as small as diabetics use to inject themselves with insulin. One could feel a tiny poke in the skin, then a bit of a squeeze as the anesthetic was applied to each vas tube. However, most people do not like needles of any size ... especially there!

A MadaJet is a spray applicator which delivers a fine stream of liquid anesthetic at a pressure great enough to penetrate the skin to a depth of about 3/16", deep enough to envelop the vas tube held snugly beneath the skin. Each vas is positioned in turn beneath the very middle of the front scrotal wall and given two or three squirts. That numbs the skin and both vas tubes adequately for 99% of men.
Stein becomes so animated talking politics that he doesn't announce the cauterization of my first vas tube. I figure it out when I spot a small wisp of smoke rising to the ceiling above my bits and pieces.
When I mention with excitement my recent Obama rally trip to Orlando, he asks if I saw the following billboard on my drive down Interstate 4.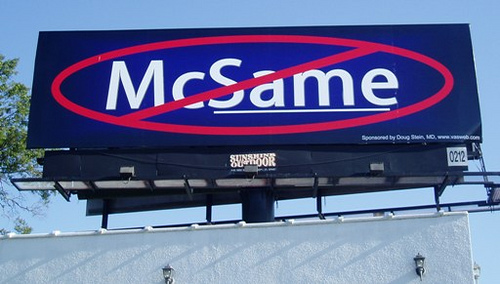 I say that I did, still unsure whether the doctor -- who has one testicle to go -- leans left or right.
At this point, Stein offers a final bit of reassurance: "Those are my billboards."
As Florida blogger Jim White recently discovered, Stein replaced several of his vasectomy billboards across the state with the cutting message "Stop McSame." Stein tells me with great excitement the interest his effort has generated. White calls this campaign "preventing unwanted presidents."
I relax, to the extent that it's ever possible to relax while a stranger applies scissors to your mantackle.
Going to Buckethead at Jacksonville's Freebird Live
Last night I took my 12-year-old son to see Buckethead at Freebird Live in Jacksonville Beach. In the past year all three of my sons have developed an appreciation for, and I hope I'm using the term properly here, people who can shred an axe. They acquired this taste by spending most of their waking hours and some REM sleep playing Guitar Hero.
To give you an idea of how out of place I was at this event, the last musician I saw perform live was Janet Jackson at the MGM Grand in Vegas back in 1994. Yes, I'm a part of the Rhythm Nation. When I mentioned that I had attended this concert to my son and his teen-aged friend and nephew on the drive up, they didn't know enough about her to be mortified.
For those not yet familiar with Buckethead, he's a former guitarist for Guns N' Roses who plays his own instrumental guitar songs, most of which are thundering heavy metal riffs played at such a ferocious pace they're perfect for masochistic pattern-recognition videogames. I first discovered this performer when his song Jordan was played around 1,000 times in my house as an unlockable bonus track on Guitar Hero II.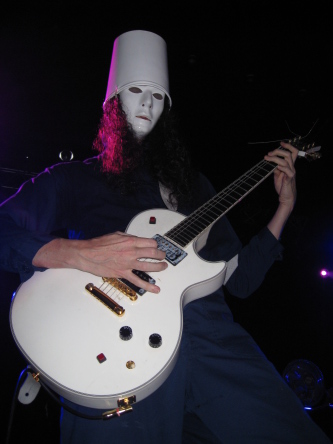 But you really don't know Buckethead until you've seen Buckethead. He played Wednesday wearing his usual attire -- a bucket on his head, expressionless Michael Myers mask, one-piece work dungarees and Converse All-Stars. Last night he wore a plain white sandpail instead of what we were expecting, a KFC bucket scrawled with the word "Funeral." Although I read somewhere that his outfit's a consequence of shyness, the presentation makes him look like someone who has killed and will kill again.
I'd never been to Freebird Live, a concert venue owned by Judy Van Zant-Jenness, the widow of Lynyrd Skynrd founder Ronnie Van Zant. The place holds around 700 people, who can either watch downstairs or from a balcony that overhangs the stage. We watched upstairs from a perch close enough to drop a cameraphone on Buckethead, because I know that if I ever enter a mosh pit I will fall and break a hip.
Apparently there's a protocol for moshing at Freebird that allows it at some performances but not others. Early in Buckethead's set, a guy in his early twenties began banging around, clearing out a widening circle between himself and a bunch of unhappy people who held up the universal hand gesture for "step off." When a bald guy finally showed up and reciprocated his desire to become human pinballs, they had just gotten started when giant security guards wrapped them up and dragged them off.
This was probably for the best. When only two people are moshing, they look like the preliminary rutting ritual of adolescent male elk. I would not be surprised to learn they're now dating.
Considering the location, I was shocked and disappointed that nobody yelled "Freebird".
I'm afraid of liking a band for fear it will ruin them for my kids, but Buckethead rocked. We didn't bail until after he played "Jordan" around midnight, and I can still hear the song in my tinnitis. The bass was so loud downstairs I was afraid it might alter the electrical impulses of my heart. I went to bed twitching like Jeff Goldblum in The Fly.
Credit: The photo from last night's concert was taken by Anders Lindquist and is used with permission.
Obama Rally Brings Thousands to Orlando
I made the two-hour trek to Orlando yesterday to attend my first Barack Obama campaign rally, an event that brought 40,000 to 60,000 people to a plaza outside Amway Arena. Arriving an hour before the event, I knew to avoid the streets around the arena and parked my car at the Citrus Bowl, where buses were available.
Most of Obama's speech was so familiar I could have delivered it myself, as someone who has seen every one of the 30-plus debates he has participated in during this long campaign. One of his new remarks was a response to Sarah Palin's recent comment where she objected to the McCain campaign's use of robocalls. Obama said, "You have to work really hard to violate Gov. Palin's standards on negative campaigning."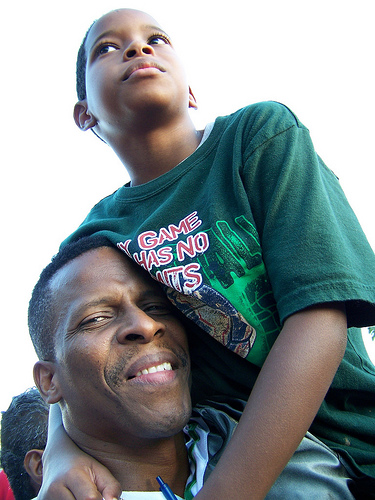 Hillary Clinton, making her first joint appearance with Obama since July, gave a sharp 15-minute speech that tied John McCain to President Bush's economic policies and touted the record of the last Democratic president on the economy. She coined a new slogan, "Jobs, baby, jobs!", that was chanted a few times by the crowd. For some reason, chanting is harder in person than it seems like it would be on television. I couldn't keep up with the speed of the crowd racing through "Yes we can!" and "O-BA-MA!", and I found myself wishing that Democrats had a few more well-practiced exhortations in our repertoire, like "U-S-A!"
Both Clinton and Obama focused almost entirely on economic concerns. "At this rate, the question isn't just, 'Are you better off than you were four years ago?'" Obama said. "It's 'are you better off than you were four weeks ago?'"
I needed too much personal space to get close to the stage, relying instead on a giant screen to follow the speeches. (You can find me in Flickr photographer Rob McCullough's crowd shot, where I'm an unshaven gray-haired smudge with a tree growing out of my head.) Throughout the event, black families, some with aging grandparents and young children, gently moved through attendees to get closer. Although the crowd was racially and generationally diverse, you couldn't miss the emotion of blacks who had come to see Obama's first event in the city. As an adopted Floridian who has learned the tragic history of race relations in the Sunshine State during my decade here, I had to marvel at the progress that brought some of the older Americans in attendance past central Florida's Rosewood massacre, Klan lynchings, poll taxes and the civil rights struggle to this amazing moment in time.
Despite the size of the crowd and the zeal of some attendees to get a better spot, I can't recall a large event I've attended where people were in a better mood. Even at the Citrus Bowl, where more than 2,000 people were still in line to get on buses 15 minutes before the 6 p.m. start of the event, I heard no complaints.
Stories from early voting sites across Florida and other states this week describe huge lines where people aren't leaving, no matter how long it takes. Looking at the bus line in Orlando and the faces of the crowdgoers who made it to the rally on time, I think there are millions of Americans who regard casting their vote this year as one of the biggest milestones of their lives. Turnout this year will be massive.
On the way back to the Citrus Bowl, as we drove through a dodgy neighborhood right on the outskirts of downtown, a car avoided an accident by swerving towards the bus and stopped a few feet from riders seated behind the driver. Even that near-miss didn't sour the mood.
Credit: The photo from the Obama rally was taken by Rob McCullough and is used with permission.
See You Later, Alligator
I got a flier in the mail informing me that the St. Augustine Alligator Farm is now offering a "parents night out" service:
Let us entertain your kids in a safe and educational environment while you and yours have a night out on the town. Have a nice dinner, take in a movie, or just relax at home; whatever you want, we've got the kids. ...

Includes: 2 slices of pizza per person, drinks, hands-on animal presentation, twilight zoo tour, a craft, nocturnal games and lots of fun!
When I'm looking for a relaxing night out with the missus, nothing puts me more at ease than letting my children roam around after dark in a place where they're not at the top of the food chain.
Tropical Storm Fay Decides to Stay
We're hunkered down for Tropical Storm Fay, which has stalled over Daytona Beach and is sending massive amounts of rain to the Jacksonville area. The weather buoy on the St. Augustine Beach pier reported wind gusts as high as 49 mph in the middle of the night.
I pride myself on being the first person to evacuate Florida under threat of hurricane, but Fay wasn't predicted to become a category 1 hurricane until there was no time to flee, so we rode it out. The storm has stayed too close to shore to reach open water and strengthen, but it refuses to leave so we're getting from 5 to 15 inches of rain. Dozens of egrets showed up this morning to dine on frogs in the saturated field behind my house.
They're not the only ones who saw a dining opportunity. One of the perks of staying for a storm is eating at local restaurants that are impossible to get into otherwise. Last night we ate at O'Steens, a local seafood restaurant that's famous for its food and the wait time required to get a table. After eating way too much of the best fried shrimp on the planet, I waddled over to the beach and joined hundreds of people wandering around and watching crazy people surf.
Being in the Minority is No Party
TPM Cafe contributor Bill Bishop answers an interesting question:
What happens to political minorities in communities with large political majorities?

They shut up. At book club or in church, they cut short any conversation bordering on politics. A woman in Washington State, a Democrat, told me that as her county grew increasingly Republican, she began to feel "like a second-class citizen, not entitled to have opinions." I interviewed Democrats in one Texas Hill Country town (80% Republican) about a float they built for a July 4th parade. "We got it all ready," said the county Democratic chair, "but nobody wanted to ride." Nobody wanted to be identified as a Democrat in a staunchly Republican community.
Bishop goes on to mention the harassment in staunchly Democratic Austin of a Republican, whose car was egged because of bumper stickers expressing his politics. I've witnessed the same here in Northeast Florida, where it sometimes feels like Democrats are so scarce that we should be a protected species you can visit in zoos. During the 2004 election signs for John Kerry were routinely vandalized and stolen around my neighborhood.
I've never understood how some Americans could be passionate about politics without recognizing the obligation to be respectful of dissent. Some of the worst excesses of government occur when one party has unchecked power over the executive and legislative branches. An aggressive and healthy minority party is essential to the system.