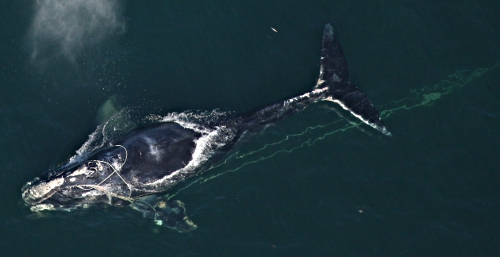 On Dec. 30, 2010, a team of federal and state biologists rescued a severely entangled North Atlantic right whale off the coast of Daytona, Florida. The whale, born during the 2008-09 calving season, was one of 300-400 left in existence from a population that once numbered in the tens of thousands. (Click the picture to see a high-resolution JPEG photo.)
The female whale had become caught in more than 150 feet of fishing rope and wire mesh, some stuck in its mouth. This was causing it feeding difficulties that left the creature undersized.
On Jan. 15, 2011, the team sedated the same whale, slowing it down enough to remove 50 more feet of rope.
Sadly, the whale died this week and its body was towed to shore on Butler Beach south of St. Augustine late Wednesday night. I drove out yesterday to see the whale and witnessed a team of around 20 people conducting an autopsy and dispensing of the whale's remains.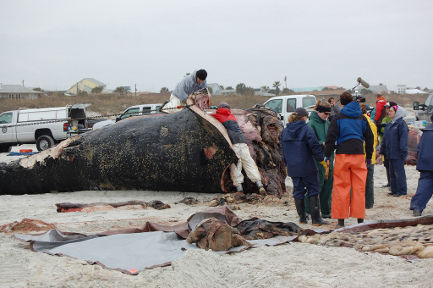 I've shared the photos I took on Flickr. They're not for the squeamish. The whale was so big they had to use a backhoe to pull it apart. One guy stood atop it with a machete and others climbed inside the animal, a gory process that was surprisingly bloodless. By the time I stopped by a few hours later with my son Max, almost all that was left was a 20-foot long truckbed filled with whale bones. It looked like the remnants of a giant rib dinner. The smell downwind of it was horrible.
I've been following the news of this whale for weeks, so it was depressing to learn that it didn't make it. I'm currently looking for opportunities to help the whales, who come south every winter from December to March to give birth to calves. The blog North Atlantic Right Whale Watch has more pictures and information on how to volunteer as a whale-spotter here in North Florida.
Comments
How many people reading this will be saddened, outraged, horrified- yet CONTINUE to contribute to these very articities by eating seafood?

PLEASE make the connection. Consuming seafood means dead whales, sea turtles, etc.

The ocean needs these animals more than your stomach does. LEAVE THEM ALONE.

Add a Comment
All comments are moderated before publication. These HTML tags are permitted: <p>, <b>, <i>, <a>, and <blockquote>. This site is protected by reCAPTCHA (for which the Google Privacy Policy and Terms of Service apply).