Review: 'Quag Keep' by Andre Norton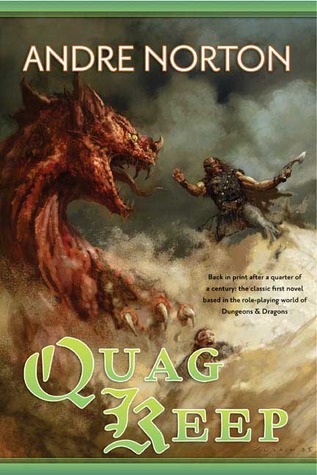 This 1978 novel, the first ever written for a role-playing game, may still be one of the worst four decades later. The esteemed SF/F author Andre Norton was introduced to the first edition of Dungeons & Dragons by co-creator Gary Gygax. After a play session, she wrote a novel from her limited understanding of the rules about characters who don't know their lives and world are a game. That sounds intriguing but the novel isn't. It devotes less than 20 pages at the beginning and end to exploring the premise.
Instead, it's a plodding tale of an adventuring party dragged across the World of Greyhawk by a geas with bracelets holding RPG dice fixed to their wrists. The characters in the group were hard to tell apart, aside from a berserker were-boar and stoic lizard man named Gulth. The punishment he silently endured when forced to travel through a harsh, dry clime, far from swamps, was evocative and memorable. I read this in the '80s and didn't recall any of it. I'll likely forget it again.
Review: 'His Majesty's Dragon' by Naomi Novik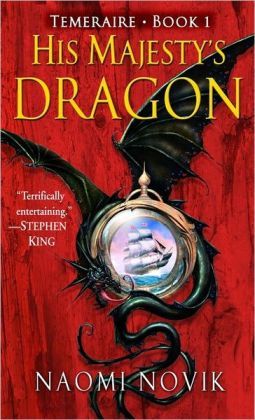 A charming read from first page to last, His Majesty's Dragon is a fantasy novel in which England is at war with Napoleon's France and both sides have a formidable arsenal of dragons and an aviator corps to pilot them. A Navy captain captures a French vessel and finds out why they fought so hard after all seemed lost -- there was an unhatched dragon egg on board. But this rare prize is about to hatch at sea, where no aviator is around to bind it to service.
In her Hugo-nominated debut novel, Naomi Novik puts an irresistible spin on dragons. They're literate, varied in skill and intellect and opinionated -- with Temeraire the most intriguing of them all. Though the book fits comfortably in fantasy, the protagonist Will Laurence is so particular about his belongings, manner and social mores he'd be right at home in a regency romance novel. This lends the book some of its best comedy. I'm running out of superlatives. There are eight more books in the series and I'm eager to read them all.
Blood and Iron by Elizabeth Bear
In a modern world with no idea it is happening, the faerie realm and human magi prepare for a savage war that will break a stalemate going back to the time of King Arthur. Elizabeth Bear mostly takes the side of the fae through Seeker, a once-human bound to the Elf Queen who must steal humans at her command. Bear uses so many lush metaphors to describe the physical world experienced by magical beings that it was tough to consciously take them all in, but the cumulative effect was mesmerizing. Most of the novel consists of powerful otherworldly creatures readying for war and engaging in diplomacy with allies, enemies and undecideds, which reminded me favorably of Roger Zelazny's Chronicles of Amber. This builds to a harrowing and dramatic conclusion. The star of the book is a kelpie (water horse) nicknamed Whiskey. Seeker controls him by knowledge of his true name and they develop a deep relationship despite the fact he's allowed three chances to kill her, which he reminds her of often.