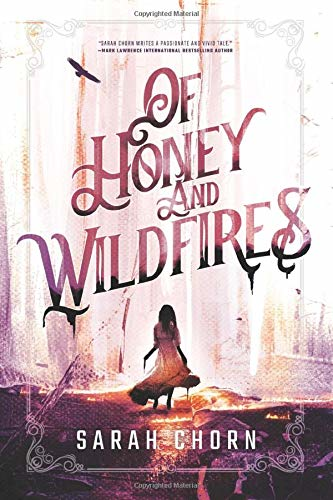 Though the novel has three compelling protagonists, my favorite character in Sarah Chorn's Of Honey and Wildfires is a wonder substance called shine. This gaslamp fantasy is set in a frontier territory where shine is discovered reminiscent of 19th century Colorado, and it becomes everyone's medicine, energy source, food additive, weapon, border wall, long-distance communications medium, and devastatingly addictive stimulant. It even colors their skin and hair each shade in the spectrum, making me wonder whether the blue shine users resemble Smurfs.
The story centers on Cassandra, Arlen and Ianthe, three young people whose lives are affected by an outlaw who is the primary nemesis of the Shine Company, which controls the territory through a monopoly on shine. Two of those protagonists have an unusual and complex relationship with shine that makes them outcasts. Chorn tells each protagonist's story in its own sequence of time, weaving the chapters together in an effective and well-planned way that lands like a hammer in the final act.
Heavy use of metaphor conveys deep emotional relationships, though sometimes it overwhelms. There's more I could say but I don't want to spoil surprises. The novel, like shine, is a discovery.
Add a Comment
All comments are moderated before publication. These HTML tags are permitted: <p>, <b>, <i>, <a>, and <blockquote>. This site is protected by reCAPTCHA (for which the Google Privacy Policy and Terms of Service apply).