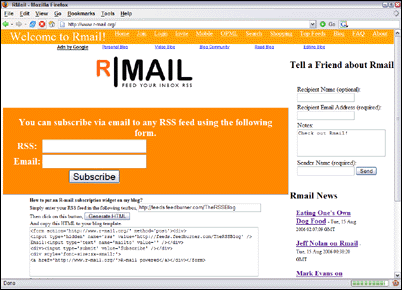 The path Randy Charles Morin is taking with RMail, a service for reading RSS feeds by e-mail, is beginning to remind me of how Joshua Schacter's hobby project, del.icio.us, was adopted by so many people that it mushroomed into his full-time gig and was acquired by Yahoo six months later. Users are joining RMail at such a fast clip that Morin finally realized there's commercial potential in the idea.
With absolutely no Web 2.0 fanfare and a web design that's optimized for Internet Explorer 3.0, RMail has grown to 20,000 users who receive 30,000 emails a day, and he told the Canadian tech site Maple Leaf 2.0 that 15,000 people joined in the past 90 days.
I never really considered Rmail a product when I wrote it. It was a solution to my own pain. But in the last three to six months, I've been gaining users at an increasing rate as RSS becomes mainstream and other RSS to email services fail to deliver. In fact, I didn't even consider Rmail worthy of funding until I heard that FeedBlitz got funding for doing nothing less than what Rmail has been doing for a year.
I signed up today to try it out. If you'd like to test RMail with a feed that updates frequently throughout the day, here's a subscribe box for the Drudge Retort:
Step one in Morin's business plan is to secure enough funding to work full-time on the site. He left off Step 5: "Buy the Toronto Maple Leafs and bring the Stanley Cup back to Canada where it belongs."
Comments
Step 6 was suppose to be a secret :-p
Add a Comment
All comments are moderated before publication. These HTML tags are permitted: <p>, <b>, <i>, <a>, and <blockquote>. This site is protected by reCAPTCHA (for which the Google Privacy Policy and Terms of Service apply).