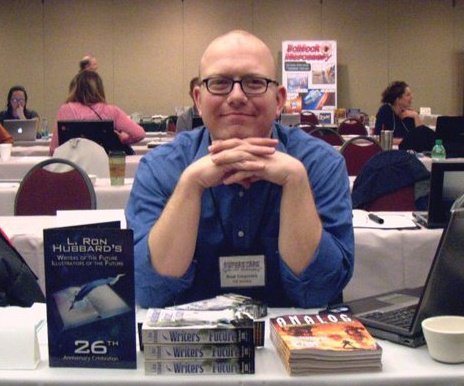 Since 2008 I have voted in the Hugo Awards, the science fiction/fantasy honors that have the most prestige. The ballot for this year's awards has been hijacked by three right-wing authors -- Larry Correia, Brad Torgersen and Vox Day -- who ran bloc-voting campaigns that put their nominations all over the ballot to the exclusion of everyone else's. For months, they campaigned for people to vote for their slate of nominees by saying this act would stick it to a secret cabal of "social justice warriors" who had been keeping conservatives like them from winning.
There is no cabal.
Anyone can vote for the Hugos by buying a $40 supporting membership in the next Worldcon. That's what I did seven years ago, and since then I've been nominating works I liked without outside interference from anybody else, just like thousands of other fans.
To give you an idea of how cynical and politically motivated the bloc-voting campaign was, Correia reached out to GamerGate for support in his attack on the Hugos. ("I think GamerGate has been awesome," he declared yesterday on Twitter.)
Rather than cover the entire mess a week later than everybody else, I'll direct you to the blog of Game of Thrones author George R. R. Martin, who has written an excellent series of posts as an author who has participated in the Hugos since the 1960s and loves the institution of Worldcon.
There's a lot about this situation that gets me all het up, but I'm beginning to savor the insane grandiosity of Torgersen (pictured above), a previously obscure SF/F author who led the bloc-voting campaign this year and dubbed it "Sad Puppies 3."
On April 8, Torgersen wrote a blog post on his personal site called "The Science Fiction Civil War" that he later deleted.
Here's the text of that post, which offers a fantastic glimpse into the preening self-regard that inspired him to lead a culture war against a much-loved SF/F award that fans of all political beliefs have nurtured since 1953:
A personal note, from a guy who has been trying hard of late to recapture some of the sense-of-wonder he felt for science fiction, when he was a boy.

The cannon have been fired. There's no doubting it now. Decades of simmering tension are being unleashed in an emotional struggle for the future of the field. The Hugo award is just a thing; a mere football. These divisions go far beyond a silver rocketship. They are drawn along political lines -- liberal, and conservative; progressive, and libertarian -- as well as along artistic lines -- taste, expression, and the desire for meaning. If one side has announced angry shock that Sumter got shelled, it's because that side had the luxury of ignoring the other side. At least until now. The grays have thrown off their teeth-grit veneer of second-class citizenship, and the blues are rallying to the status quo. Voices long quiet, have erupted with the yell of rebellion. And there is every sign in the world that the blues will stop at nothing to put down the grays.

I remember when I used to think science fiction was this happy, fraternal place. If there were disagreements, they were small things, and no adult would let them stand in the way of a rousing all-for-one-and-one-for-all cheer. A round on the house for everybody, ladies and gentlemen! Hip-hip-hooray!

I believe there may have been a time when the reality at least approached this naive impression -- an idea planted in my imagination, and fueled by the dreams of ambitious youth.

Now I am no longer green. This year finds me a veteran. I have seen the quiet hate in the eyes of so many colleagues. For each other. For the other guys. For the people beyond the next rise of mountains. It is a hate bred by a thousand slights and prejudices, snobberies and injustices and cuts which have bled quietly into the night. You see it every time one professional's celebration is conducted so as to kick sand in the face of another professional. The fans -- volunteers from the common parts of every locale -- line up along the fence rows and rock walls, nervously checking their cartridge boxes, and wondering when they can get a chance to lick the enemy.

Many people never thought it would come to this.

Now that we're in it, I have to ask: how could it not have come to this?

You can only paper over cracks in the foundation so many times, before the foundation falls apart.

The silhouette of Larry Correia stands on a lonely knoll, his beard jutting proudly like Robert E. Lee's -- or is it Ulysses S. Grant's?

The judgments of history -- far removed from the sound of the guns and the bloody casualties laying like cord wood across the fields and in the gullies and meadows -- will have to judge which "side" in this fight is the blue, and which is the gray.

I knew the moment I took up the flag for Sad Puppies 3, that I was sacrificing forever any chance of ever being a Hugo award winner. There would be no forgiveness. Not from the traditionalists who jealously guard their trophy and consider all complaints against it to be heresy. But I was resolved. As an object of merit, the thing had fallen into question for me -- along with so much of the rosy history I thought I understood, before I was published.

Now there is only the war. A war which nobody wants, and yet nobody can avoid. All the rancor and chaffing and preening distaste for "those who are not like us" ... flooding forth in a wave of bitter rage that is enabled from behind the immunity and protection of ten thousand keyboards.

I have the sense that this thing is going to change us all in some way, forever -- those of us who make some part of our lives in this country called science fiction. Now splintered and divided.

What's left for a man now is to do what his heart, and God, tell him is right.

And it will be up to the future to decide if I am a hero, or a villain. Perhaps I am both?

I will either be Phil Sheridan, or A.P. Hill. George Henry Thomas, or Stonewall Jackson.

If I hope for anything -- when all of this is over -- it's that the Hugo means something again, and that the blind spots, biases, prejudices, and petty shadowing are reduced, if not erased. So that other people who come to it in the future, won't find it the way we found it -- before the fighting turned hot.

Most folks will stay home. Many already bitterly resent the conflict. Damn all flags.

When the survivors are old and all the generals long dead, they may ask, "Was it worth it?"

Lord, I sure hope so.
Torgersen and Correia, who have cultivated an enormous sense of personal aggrievement about alleged anti-conservative bias in the Hugo Awards, were both nominated by Worldcon voters to the John W. Campbell Award for Best New Writer in the last four years. That's the highest compliment that we pay to new writers and often a springboard to a successful career in SF/F.
But neither of them won. Correia lost to Lev Grossman in 2011 and Torgersen to E. Lily Yu in 2012.
So to them, I guess "THIS MEANS WAR!"