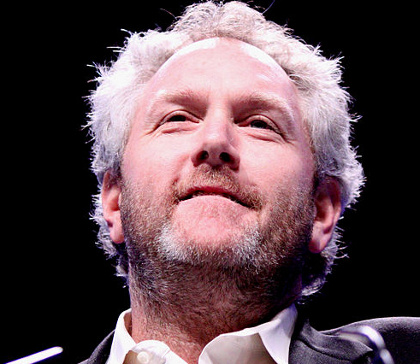 Thursday morning shortly after midnight, the conservative media provocateur Andrew Breitbart collapsed while walking his neighborhood in the Brentwood district of Los Angeles. He could not be revived at a hospital and died, exactly one month after his 43rd birthday. My condolences go out to his wife Susie (the daughter of the actor Orson Bean), his four kids and the many friends he had in public and private life.
As publisher of the Drudge Retort, I've followed Breitbart's career going back to the days when he was doing half the work on the Drudge Report and getting none of the credit. Matt Drudge liked the mystique of the I-work-alone myth, and stories would be written that mentioned he had a collaborator without naming the guy. It was Breitbart, who had befriended Drudge and operated a legal defense fund for him after Clinton White House aide Sidney Blumenthal sued Drudge for libel.
When Breitbart was still working at the Drudge Report in May 2001, I caught the site fabricating a source. In a story slamming the New York Times for being slow to cover Blumenthal settling his suit, the following paragraph appeared:
"What the NEW YORK TIMES is doing with its sin of omission is no doubt a form of libel of its own, corporate news slander of the highest degree," said Professor Emeritus Andrew Breitbart of the Cashmere Institute of Media Studies.
That institute was fake. Cashmere was a reference to the street he lived on at the time. Breitbart had quoted himself in an article he reported.
Four years later, when he helped launch Huffington Post, I sent the site an email congratulating him on the launch and asking if he brought Drudge's siren with him.
Breitbart replied back, "No, I left it at the Cashmere Institute for Media Studies."
After watching him rise up from anonymous Drudge lackey to infamous journalism mogul, I could never figure out why Breitbart sounded so angry all the time. He operated in a constant state of rage that seemed bigger than politics. He was still bearing a grudge, as a middle-aged man, against a high school principal he believed had turned other kids against him, he told the New York Observer in 2009. He once ruined a date with his wife at a Santa Monica restaurant by flipping off a procession of anti-war protesters, only to learn later that they were actually protesting the conscription of child soldiers in Africa.
Breitbart cultivated liberal enemies all day long on Twitter, like he was afraid they might lose interest and start hating somebody else.
Today, a link was shared with me that provided some insight into his personality -- a Usenet post he made in 1995 to the online discussion group alt.support.attn-deficit:
Two weeks ago, I was clinically diagnosed with ADHD; the psychologist stated that the diagnosis was a "no-brainer" after just one meeting, one in which I rambled semi-coherently and excitedly about my life. MY FAVORITE SUBJECT!!!!!!!! ...

I feel my condition is well worse than those I read about. I do not take much joy from this distinction, but true concentation is simply not an option, ever. ...

Ironically, I am not depressed by my myriad of symptoms of ADHD. I love myself -- maybe too much. I love TV, radio, the news, books, movies, coffee, etc. The problem is -- jobs, occupation maintanence, and conforming to the work standards of others is a bit hard with my dependencies that obviously conflict with workplace norms.
Breitbart never had to worry about workplace norms. His plate-spinner personality was perfectly suited to this media age. Last year, I posted on Twitter that "Andrew Breitbart's baked expression on the cover of his new book explains a lot." He retweeted it within minutes.
As much as I hated what he was doing to politics and journalism, I would have liked much more time to make that case in the years to come. At the GOP presidential debate in Jacksonville I covered last month, two seats were reserved on my row at the media center for Breitbart.Com. I walked over a few times to see if he'd turn up in one of them, but unfortunately nobody showed. He was a nemesis I wanted to meet.
Credit: The photo was taken by Gage Skidmore and is available under a Creative Commons license.