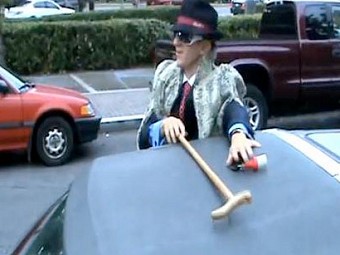 Clark Hoyt, the ombudsman of the New York Times, has finally figured out that Andrew Breitbart and James O'Keefe lied to the media about the way O'Keefe was dressed during the ACORN sting videos last fall:
... O'Keefe almost certainly did not go into the Acorn offices in the outlandish costume -- fur coat, goggle-like sunglasses, walking stick and broad-brimmed hat -- in which he appeared at the beginning and end of most of his videos. It is easy to see why The Times and other news organizations got a different impression. ... The Times was wrong on this point, and I have been wrong in defending the paper's phrasing. Editors say they are considering a correction.
The Times reported several times that O'Keefe was wearing a ridiculous pimp costume during the visits to ACORN offices, an impression furthered by O'Keefe when he wore it during an appearance on Fox News.
As the story was first getting national attention, Breitbart wrote in his column for the Washington Times that O'Keefe was dressed that way:
When filmmaker and provocateur James O'Keefe came to my office to show me the video of him and his friend, Hannah Giles, going to the Baltimore offices of ACORN -- the nation's foremost "community organizers" -- dressed as a pimp and a prostitute and asking for - and getting -- help for various illegal activities, he sought my advice.
As Breitbart had to know at the time, since he had viewed all of the videos and was publishing them on his Big Government web site, O'Keefe was dressed conservatively in a button-down shirt while talking to ACORN workers. He only wore the pimp costume in footage shown of him getting out of a car, which was filmed separately and edited into the videos to mislead viewers.
Telling people O'Keefe wore that pimp getup helped give the story wider media attention and made ACORN workers look stunningly stupid for not seeing through the ruse.
Dig into any story pimped by Breitbart and you'll catch him spreading half-truths or brazenly false information. Though he employs the trappings of journalism, he engages in practices that no professional journalist could get away with at a reputable organization.
In May 2001, the Drudge Report ran a story that quoted Breitbart and chided the New York Times for not covering Sidney Blumenthal dropping his libel suit against Drudge:
"What the NEW YORK TIMES is doing with its sin of omission concerning the Drudge case is no doubt a form of libel of its own, corporate news slander of the highest degree," said Professor Emeritus Andrew Breitbart of the Cashmere Institute of Media Studies.
The Cashmere Institute of Media Studies does not exist. It's a phony organization named by Breitbart as an in-joke that would be spotted by his personal friends. Breitbart was editing the Drudge Report at the time, and he either quoted himself or Drudge quoted him.
When I was a newspaper reporter, I would have been fired if I pulled a stunt like that to inject my opinion into a story. But Drudge and Breitbart have the good fortune to work in online agenda-driven journalism, where no one is ever held accountable for being wrong. Breitbart lied back then, lied about the ACORN sting and will probably lie in furtherance of the next scoop he peddles to the mainstream media.
He can't be trusted.
I wonder how long it will take the Times and the rest of the major media to figure that out.
Related blog entries: