I'm a huge fan of the web designer and magazine publisher Derek Powazek, but I couldn't disagree more with his rant that calls all search engine optimization (SEO) a con game:
Search Engine Optimization is not a legitimate form of marketing. It should not be undertaken by people with brains or souls. If someone charges you for SEO, you have been conned. ...

The problem with SEO is that the good advice is obvious, the rest doesn't work, and it's poisoning the web.
I tried to respond on his blog, but he's closed comments. Saying that good SEO is obvious is like saying that good web design is obvious. Lumping all SEO consultants with scammers and spammers is unfair to thousands of people who do that work honorably.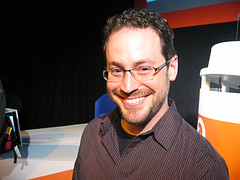 The kinds of things he's saying about SEO were being said about blogs back when mass-audience tools like Blogger and Movable Type helped popularize the medium. The publishing style of blogs -- short frequent items with category links and heavy link exchange among bloggers -- had a considerable SEO benefit and helped blogs rise to the top of search results, making a lot of static-site publishers angry.
If I'd been able to comment, I would have posed this question to Derek: Have you ever tried to help a small business launch a new site and be discovered by potential customers on search engines? It's a difficult task that's vital to their livelihood. The black-hat junk that he slams makes it even harder for them.
Good SEO is essential to these businesses, which aren't in a position to simply "Make something great. Tell people about it. Do it again," since they are not web auteurs with a 14-year track record of launching great sites. Try explaining to a company that provides environmental cleanup services across two states that it doesn't need SEO because it just has to create something cool and tell people. Or a local chiropractor. Companies throw hundreds or even thousands of dollars at yellow-page publishers for a single ad because their need to be found by customers is so strong. A lot of people never look at those tree-killing phonebooks anymore. They use Google.
As obvious as Derek believes SEO to be, he missed one of the most basic techniques by omitting a title in the URL of his blog posts.
I'm not an SEO consultant, but I've learned about the techniques over the years because I run a one-man shop that can't afford advertising. Most SEO techniques are about learning how Google works, not trying to game it inappropriately. The first thing I would hire, if my business could afford it, is an expert in SEO. That talent pays for itself more quickly than any other skill in web publishing.
Photo of Derek Powazek taken by Isriya Paireepairit and redistributed under a Creative Commons license.