I skim through 50-100 stories a day published on Daily Kos as I consider items for Watching the Watchers. To minimize bandwidth use, a Java application that I wrote saves a cached copy of each story on my server. Because of this cache, I end up seeing stories that were deleted from the site.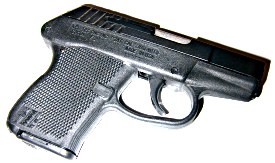 I'd heard for years that a lot of user-submitted stories are deleted from Daily Kos because of the viewpoints they espouse. So far, I'm not finding that to be the case. I've seen around 30 stories that were deleted. With one exception, they were all duplicates of another story, stories removed by the author, or test posts and other junk.
The only exception was a story that ran Saturday, titled Why Do You Want My Gun?. The story, which I've reprinted on Watching the Watchers, is a first-person account by a gun-control advocate who got robbed:
Back in 1993, I was 21 years old and worked as a clerk in a 7-11 convenience store. One evening, while working the swing shift, I was robbed at gunpoint. ...

If you've ever been unlucky enough to be held at gunpoint by a stranger, you'll understand the enormous amount of fear that you experience. I wasn't able to return to work because I was too scared they would come back. Up until that point, I had been a solid supporter of gun control. However, things changed overnight. I wasn't able to sleep for more than an hour or two at a time because I was having nightmares about it. I would wake up feeling completely panicked and scared. I have never felt that way in my life prior to this incident.
The story received 220 comments on Daily Kos before it was deleted with the following tags, which I think were assigned by site admins: "troll diary, donut depot, gay hating gun nut diarist, please distribute donuts evenly across all faceless comments, 3 donuts per comment only please." The comments can't be displayed, but you can see some of them on the user page for Faceless, the author of the piece. (Kos users call some comments donuts to signify they are worth zero in the site's recommendation system.)
Though I disagree with the conclusions drawn by the author of the story, I think it was a mistake for a site admin to remove it. There are a variety of viewpoints on gun laws and the Second Amendment within the Democratic Party. It's wrong to dismiss the author as a troll spreading anti-gun control propaganda simply because the person relates the kind of experience that turns some people into an opponent of gun control.
Credit: The photo of the handgun was taken by Robert Nelson and is available under a Creative Commons license.