You may not know this, but there's a fourth Jonas Brother -- a ginormous bald black guy named Big Rob who comes out occasionally to supplement their musical caterwauling with rap.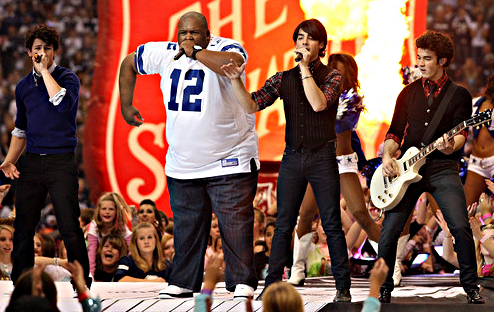 Until I found a blog entry by Rickey Laurentiis, I was not aware that Big Rob was an attempt to establish white supremacy in an unsuspecting audience of tween girls:
I've seen them around, figuratively, on the covers of magazines and on the TV, but I didn't really take notice until So You Think You Can Dance final where they performed. I was bored, to say the least, until this big, black guy came jumping onto the stage like the Koolaid Man. He appeared to be some sort of hype man ... rapping or whatever. I didn't really listen after the first few minutes. I was nauseated.

I just couldn't help but think about the (national) image of black men as soon as he -- I've learned his name is Big Rob and he's the brothers' body guard -- appeared. I mean, historically and presently. The black man as monster, brute, murderous; the black man as mandigo, rapist, oversexed animal; gross, perverse. Perhaps, perhaps I'm overreacting (but, sorry, I'm not white so I don't have the privilege not to think of these things), but when I see Big Rob flanked by the three other Jonas Brothers, I can't help but to see a very strategic move:

Big Rob is mostly obviously Other. On that stage, in that audience. His skin, bald head and not mention very large, tall size completely otherize him. In turn, as the surrogate "what is that?", The Jonas Brothers, their whiteness, is cemented, so to speak.
When I saw the Jonas Brothers perform on the broadcast of the Dallas Cowboys Thanksgiving game last fall, I noticed there was something different about Big Rob too. I think he's adopted.