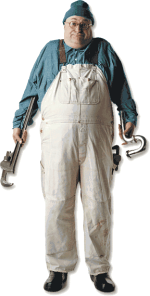 Things aren't looking good today at Bloglines, the popular web-based service I've been using for years to read RSS feeds. The site has been offline for at least eight hours and isn't even responding to web requests with an error. Instead, requests time out with the error "The server at bloglines.com is taking too long to respond" (in Mozilla Firefox) or "cannot display the webpage" (Internet Explorer). Apparently, the Bloglines plumber who appears whenever there's a system outage has been laid off.
Some people are getting the error "Port 80 says: Bad Gateway ... proxy server received invalid response from upstream server," which suggests that there's a load-balancing problem with the site.
The Next Web reported in October that the owner of Bloglines, Ask.Com, tried unsuccessfully to sell the site and has outsourced the operation to China. An unofficial Twitter account, bloglines, has been tracking the site for a while and claims that it's now being run strictly "in maintenance mode."
I am a member of the RSS Advisory Board with Bloglines engineer Paul Querna. After I sent him an email to see what's up, I found out he's not the right person to ask either. He left Ask.Com in January to join Joost, not long after writing this on Twitter:
Ask.com has effectively killed Bloglines, and barely maintain it. I love the beta UI, but I'm tired of being abused by Ask.
Even if Bloglines comes back, it's clearly time to export my OPML subscription list and move to a new service. It's a shame that Ask.Com hasn't been able to make the service commercially viable. Querna and the other developers made it one of the best web-based readers, with full support for RSS and many of the RSS namespaces. We used Bloglines as one of the targets for the RSS Best Practices Profile. I am surprised there was no buyer, since it appears to me that the site has archived millions of RSS items it served over the years. That archive alone is valuable, and Bloglines also has a large user base. Deja News, an archive of USENET group posts dating back to the network's founding in 1979, was sold to Google in 2001 and became Google Groups.
I tried to ask Jeeves what's wrong with Bloglines? He's out of the loop too.
Update: There's a chance Google might have a cached copy of your Bloglines OPML subscriptions (the public ones, not the ones you've marked private). Search Google for the URL http://www.bloglines.com/export?id=rcade, changing rcade to your Bloglines username.