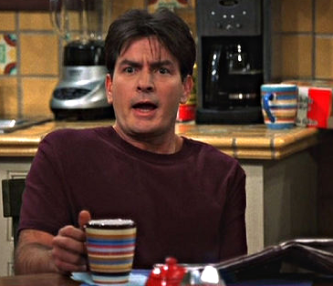 After watching Two and a Half Men for several years, I reached a point where I had to hunt down the cool coffee mugs that Charlie Sheen and Jon Cryer use on the show. The sitcom spends a lot of time in the kitchen, and Charlie and Alan Harper each drink from their own distinctive striped mugs. I'm not alone in my obsession. A discussion on TV.Com led to Tabletops Unlimited, which sells Charlie's mug under the name Sedona Earthenware. I ordered four, and I'm still searching for the first houseguest who is impressed when I tell them the mugs have been seen on TV.
A version of Alan's mug is available from the CBS store, but the product warning scares me:
WARNING TO CALIFORNIA RESIDENTS: The colored artwork or designs used on this product contain lead and/or cadmium, chemicals known to the State of California to cause birth defects and other reproductive harm. This warning is required by Proposition 65.
According to the Society of Glass and Ceramic Decorators, this warning is the product of a 2005 legal settlement about excessive levels of lead and cadmium on the exterior surfaces of diningware.
I don't know if the coffee mugs in California are particularly toxic or if the state just has more badass product liability lawyers. But since the Harpers have been drinking from these mugs for years, that could be the reason none of Charlie's steady procession of sex partners has produced another half-man during the run of the show.