My alma mater, the University of North Texas, made national news this past week when a booster for its football program threatened to withhold a $1 million donation after the team fired Coach Darrell Dickey.
In nine seasons, Dickey led the Mean Green to four straight Sun Belt Conference championships and the first bowl trip since 1959. He's one of the most accomplished coaches in the school's modest football history, but two losing seasons and criticism over recruitment led to his ouster. He's receiving a buyout in excess of $540,000 for the remaining years of his contract and agreed to coach through season's end.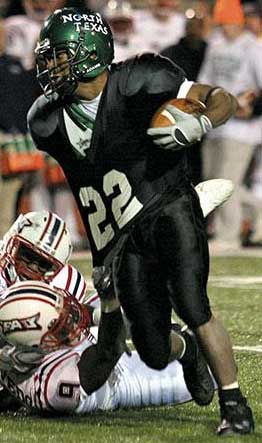 Two incidents that took place during Saturday's North Texas-Florida Atlantic game show how wildly things have spun out of control at UNT since the firing.
According to parents of current players, right before Saturday's game Coach Dickey snuck new black uniforms onto the team without the school's permission. The rec-league quality jerseys, pictured here, didn't contain the names of players or the school and conference logos. They weren't cleared with Athletic Director Rick Villareal or announced to the press before the game and might violate agreements with the school's uniform supplier.
During halftime of the game, one assistant coach allegedly started a physical fight with with another after being told he should play seniors because it was their final home game. The incident got so out of hand the offense received no instruction before going back out to start the third quarter.
As you might have guessed, North Texas lost the game, 17-16, and fell to 3-8.
I'm a small donor to the Mean Green Club, the school's booster program, and a longtime fan of UNT football. Because I've been digging into these incidents on the GoMeanGreen.Com message board, I've gotten independent corroboration from sources affiliated with the program. I'm withholding their names at their request.
I can't recall a situation where a head coach sprang new uniforms on a Division I college football team to "piss off" his athletic director, as Dickey reportedly acknowledged to players before the game. Combine this with a coordinator putting another coach in a chokehold until being pulled off and it's a meltdown of historic proportions.
Dickey, who also abandoned his customary attire for all-black clothes and a black cap, is photographed with the team in the Denton Record-Chronicle. He told reporters it "wasn't anything other than kids liking that color," drawing the ire of parents who didn't like the stunt being blamed on players. When I saw game photos on Sunday I thought Dickey had declared a period of mourning for his job.
I left two messages today with new UNT President Gretchen Bataille to relay these events. The departing seniors on the team deserve a better sendoff than childish stunts from coaches nursing a grudge, fans deserve better, and a school paying Dickey another half-mil not to coach deserves better.
I'll be disappointed if Dickey makes the trip Saturday to finish the season against Louisiana-Monroe. I was on the fence about Dickey's firing, but I think he's shown his true colors.