My alma mater, the University of North Texas, made national news this past week when a booster for its football program threatened to withhold a $1 million donation after the team fired Coach Darrell Dickey.
In nine seasons, Dickey led the Mean Green to four straight Sun Belt Conference championships and the first bowl trip since 1959. He's one of the most accomplished coaches in the school's modest football history, but two losing seasons and criticism over recruitment led to his ouster. He's receiving a buyout in excess of $540,000 for the remaining years of his contract and agreed to coach through season's end.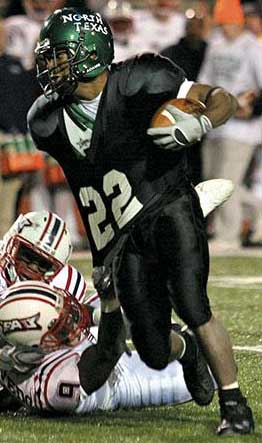 Two incidents that took place during Saturday's North Texas-Florida Atlantic game show how wildly things have spun out of control at UNT since the firing.
According to parents of current players, right before Saturday's game Coach Dickey snuck new black uniforms onto the team without the school's permission. The rec-league quality jerseys, pictured here, didn't contain the names of players or the school and conference logos. They weren't cleared with Athletic Director Rick Villareal or announced to the press before the game and might violate agreements with the school's uniform supplier.
During halftime of the game, one assistant coach allegedly started a physical fight with with another after being told he should play seniors because it was their final home game. The incident got so out of hand the offense received no instruction before going back out to start the third quarter.
As you might have guessed, North Texas lost the game, 17-16, and fell to 3-8.
I'm a small donor to the Mean Green Club, the school's booster program, and a longtime fan of UNT football. Because I've been digging into these incidents on the GoMeanGreen.Com message board, I've gotten independent corroboration from sources affiliated with the program. I'm withholding their names at their request.
I can't recall a situation where a head coach sprang new uniforms on a Division I college football team to "piss off" his athletic director, as Dickey reportedly acknowledged to players before the game. Combine this with a coordinator putting another coach in a chokehold until being pulled off and it's a meltdown of historic proportions.
Dickey, who also abandoned his customary attire for all-black clothes and a black cap, is photographed with the team in the Denton Record-Chronicle. He told reporters it "wasn't anything other than kids liking that color," drawing the ire of parents who didn't like the stunt being blamed on players. When I saw game photos on Sunday I thought Dickey had declared a period of mourning for his job.
I left two messages today with new UNT President Gretchen Bataille to relay these events. The departing seniors on the team deserve a better sendoff than childish stunts from coaches nursing a grudge, fans deserve better, and a school paying Dickey another half-mil not to coach deserves better.
I'll be disappointed if Dickey makes the trip Saturday to finish the season against Louisiana-Monroe. I was on the fence about Dickey's firing, but I think he's shown his true colors.
Comments
Makes me think I should start following football. Or maybe not.
Your from Texas?

I live in Austin. Football is serious business in Texas!

Regards,
Ames

Texas really is a different country, isn't it?

That's not just any booster, it's Mattress Mack, the loony who yells "Save You Money!" at the end of his wacky mattress commercials in Houston and elsewhere. Who knew there was so much money in selling mattresses by acting like a crazy person.
Not very nice of Mattress Mack to use the music department at UNT as a pawn. It would have been much more humane to not name the department the $1 million would be redirected to if the practice facility wasn't named after Dickey.

Imagine the emotional roller coaster this put the One O'clock Lab Band on, and how they must feel now.

Brickbats to Mattress Mack.
ULM is gonna walk all over the Not so mean green this saturday..
Excellent -- Sun Belt Conference taunting! I don't know what color the Mean Green will be wearing Saturday, but the Louisiana-Monroe Ind-, er, Warhawks will be black and blue. Snap!
Why did they fire him? I think this is funny. Norht Texas is shitty football. How dare a donar black mail the the team.
Should he really have been fired? SOunds like the AD started this fiasco and screwed up royally by letting him go to begin with.
Dickey has lost 12 of his last 16 games. His offense is too predictable and has rotated 3 QBs this season not knowing what to do. It is time for a change, before he really goes psycho on us.
It was tacky to fire Dickey. It was tacky for the coaches to act as they did. It was a tacky uniform incident. So that's tacky to the third power. The UNT Mean Green (Black) Tackies.
Remember now, it's only football.
If your HC on national TV remorses about the "bad conditions he has to work under, disses the fans, calls the fans motherf....when they have spent all day cooking briskets to feed the players after spring scrimmage, the OC goes into the stands to attack a fan who dared to critize him, After 9 seasons has only 3 winning seasons and a record of 42 wins vs 67 losses, spends his own money to purchase solid black jerseys without the school name and conference, .conducts pre game practice in school color jerseys, changejust before game in a show of disrespect....wouldn't you fire him also. Coker was fired today...look at his record, national title etc.
DD complained about NT's facilities yet in two years ago NT built and placed in use a $7 million new athletic center( with 3 new adjoining practice fields) (locker room for home team) , which will be one end zone of a new FB stadium the fund drive just started out with $1.5 million donation.

NT athletics has invested $18 million in the last few years to improve facilities. New TexTronics scoreboard in the FB stadium, new turf (which will be moved to the new stadium, completed reworked electrical systems in last three years.
Yeah but c'mon, how classy is it to fire a coach after he suffers a heart attack. Granted the black uni thing was a bit sophomoric, and looks like crap, but I feel for Dickey because of the AD having no class and whether it's due to timing or not, he could've waited until the end of the season to fire him, or at the very least waited to see how the season was going to pan out.

Having a lame-duck coach does nothing for a team's morale so in my book A.D. Villareal has done nothing to contribute to the football program by his actions, and should have his own "work" reviewed by all the powers that be at the university...

UNT deserves better!
Funny thing about the North Texas uniforms and logos and the irony of the pissing match between coach and athletic director.

Our firm Gameplan Creative (an international sports branding firm located in Chicago http://www.gameplan.com) offered to help redesign the North Texas Mean Green identity a few years ago. We have working with us a wildly talented graphic designer on staff who is an UNT graduate.

When we heard rumblings about a possible change in the Mean Green identity we wanted the chance to help.

Well, unfortunately even though we've worked with mega sports brands such as the Washington Redskins, the NBA, the Charlotte Bobcats and NIKE and Reebok, our calls into UNT went largely ignored. Seems that someone might have wanted to at least discuss the process with us?

Tom O'Grady
CEO//Gameplan Creative

When Dickey was winning, it was simply a matter of timing - not coaching prowess. He had a decent O-Line and 2 INCREDIBLE backs in Patrick Cobbs and Jamario Thomas. My final 3 years at NT (plus the next year) resulted in the New Orleans bowl so I felt pretty confident becoming a supporter of Mean Green Athletics as an Alumni and purchasing season tickets. We didn't buy this year considering not a single home game was won last year. I feel bad for the seniors here - to have their final game be overrun with antics and childish distractions.
So, let me get this straight, this guy has been a fairly successful coach at this rinky-dink "school" for almost a decade, and now, since he's had 2 losing seasons, the school shits on him?

HA! NT deserve to be in that quagmire of mediocrity known as the Sunbelt Conference.
Easy there, NK. Graduates can call UNT whatever we want, but outsiders must respect the Claw.

My only encounter with the Screaming Pigskin Eagles in person was an attempt to conduct a locker room interview with a Mean Green RB, who was an interesting enough guy, but then the naked starting QB decided to attack and wrestle an equally naked defensive player whose body type can best be described as tripod.

It wasn't the nudity that weirded me out, although if I had the urge to wrestle another man naked, I wouldn't choose a crowded locker room to do it in. It was the fact that the guy the QB chose to sneak up behind and tackle the one guy whose dong he couldn't possibly avoid brushing up against in a graeco-roman bout of that nature.

And they say figure skating is gay.
N.K., the media is only providing half of the story. Firing Dickey with 3 games left may look bad, but why wasn't it bad for North Carolina or Michigan State when they did the same?

Here's the other half of the story from a fan that has followed North Texas since the late 60's.

* Dickey has three winning seasons in nine years.
* An overall record of 42-67
* No discipline as evident by the night of carousing by the team prior to one of the New Orleans Bowls that landed quite a few players in the New Orleans slammer. BTW, Dickey was seen puking in the streets the same night. None of the players were disciplined and all played.
* Bad-mouthing his "situation" at North Texas constantly in the media despite NT investing over $18 million the last few years and with a new stadium on the horizon.
* Calling the fans MFer's to his team.
* Walking into the lockerroom and telling his players that they are the reason he got fired.
* Having the team wear Jr. High quality black jerseys in his final home game without AD approval. Dickey admitted to paying for these.
* Allowing his OC to go into the stands after a fan without repurcussions.
* An offensive system that is less complex than many high schools.
* Never trying to sell the program to the fans, students or alumni.

Dickey lucked out with one great recruiting class in nine years. The many good classes he has had he has failed to develop.

BTW, this rinky-dink school is the 4th, almost 3rd, largest in Texas with over 33,000 students. Many alumni and season ticket holders were threatening to pull support unless he was shown the door. The AD is getting the raw end of the deal and has chosen to handle this event with much more dignity and class than Dickey could ever imagine.
This is why you DON'T fire a coach and then keep him around. This is why key employees are ushered out of the office by security when they are fired.

Either fire him and get him off the field, or don't fire him until after the season is over. Whoever at UNT thought firing Dickey but letting him keep coaching is really to blame for this.
It's not that uncommon for college teams to fire coaches and ask them to finish the season. Ron Zook did it recently at Florida, and Larry Coker's doing it this season at Miami. Dickey agreed to finish the year.
I don't know a whole lot about football, but I do know a lot about UNT, and I really appreciate JD in Houston's remarks. It's nice to see someone on here who actually knows something about UNT.

It seems as if more than half of the people commenting here know absolutely nothing about UNT or its football program. And that's why they're looking like idiots when they make comments about things they know nothing about.

So next time, before you make a comment, make sure you know what you're talking about, rather than revealing just how ignorant you are.
NK record or not you have no right and no clue what these student athletes or athlete at any other school have to go through, so please show some respect. While you were playing with yourself and watching from the sideline criticising, they were out on the field an in the classroom busting their ass.

As a former member of unt athletics I agree with the replacement and wish it would have happened years ago. Dickey was extremely fortunate with one recruiting class that he was able to ride for years. There was no true coaching that occurred other than your basic high school technique. Texas has a enormous amount of talented players to recruit and there is no reason UNT not be a major contender in the mid major conferences.
The whole thing is overblown and continues to be overblown. Darrell Dickey did more for the program than any of the coaches preceding him did. Our athletic director is as bush league as Dickey became. Although, since he posts on a message board like some spare fan, the dozen or so diehard UNT fans in America think he's a god.

The whole thing is laughable. Almost as laughable as hiring a high school football coach. Wait. We did hire a high school football coach. Yeah, laughable.

Anyway, someday UNT will realize it doesn't have the money to hire a real football coach and go back down to the I-AA level where it belongs. Until then, the program will languish in the Former I-AA Schools Conference known as the Sun Belt and, generally, waste everybody's time for four months each fall.
Todd Dodge is an impressive coach. It's a risk to take a high school coach, but given the athletic budget constraints at UNT, getting one with his record and reputation in DFW seemed like the best move to me. The guy's a living legend in Texas football.

It's sad to see a UNT grad wish for the program to end up back in Division I-AA. I attended school when we played in the Southland, and it was embarrassingly small-time for a school with 30,000 students.
Why is it sad? They gave the high school coach a contract that pays $2,000 less a year than they were paying Dickey. The money isn't there.

Fouts Field is a glorified high school stadium. The Sun Belt Conference is a hopeless league that will probably soon lose its most legitiamte football program, Troy State. And, to say that the school is 30,000 students strong is a misnomer since only about 12,000 of those actually live in Denton and go to school full-time. The rest are commuters from the Dallas-Fort Worth area.

Look, I enjoyed my time at UNT. I'm proud to be an alum. I had great times down at the Flying Tomato, Rick's Place, Riprocks, and Otay's back in the day. But, as far as athletics go, UNT is what it is - a former I-AA program that doesn't have the money to be I-A.
Your woe-is-us story ignores the fact that UNT has a new president who supports football, a new coach that fires up Dallas/Fort Worth, a new million-dollar donor to the athletic program and a capital campaign to build a new stadium.

Will all of this work out? Who knows, but I'm not as willing to accept mediocrity from my alma mater as you appear to be. After watching USF and UCF here in Florida become respectable football programs, it's possible for UNT.
This is just a sticky situation, on all fronts. Undoubtedly it just seems wrong to fire a man who had just had a heart attack not long before, but if half of what y'all accuse this man of (puking drunk in the streets before the biggest game of the year, letting a coach go attack fans in the stands, calling fans MFs, badmouthing the program on national TV, accusing his players of getting him fired, etc., etc.) is true, he probably should have been fired a long time ago, regardless of how many New Orleans Bowl berths he's gotten. I realize that's the only guaranteed bowl berth the Sun Belt gets, but it's not like this man was winning the national championship. And it's not like his record should have any bearing on whether or not he should have been retained, given his behavior. Again, just a sticky situation. Best of luck to Todd Dodge- he'll need it!
I just read your article and although dated, I could see a similar scenario play out this year with Littrell.
I hope it doesn't come to that. Seth Littrell has been compensated better than any coach in UNT history. That's a fabulous parting gift.
Add a Comment
All comments are moderated before publication. These HTML tags are permitted: <p>, <b>, <i>, <a>, and <blockquote>. This site is protected by reCAPTCHA (for which the Google Privacy Policy and Terms of Service apply).