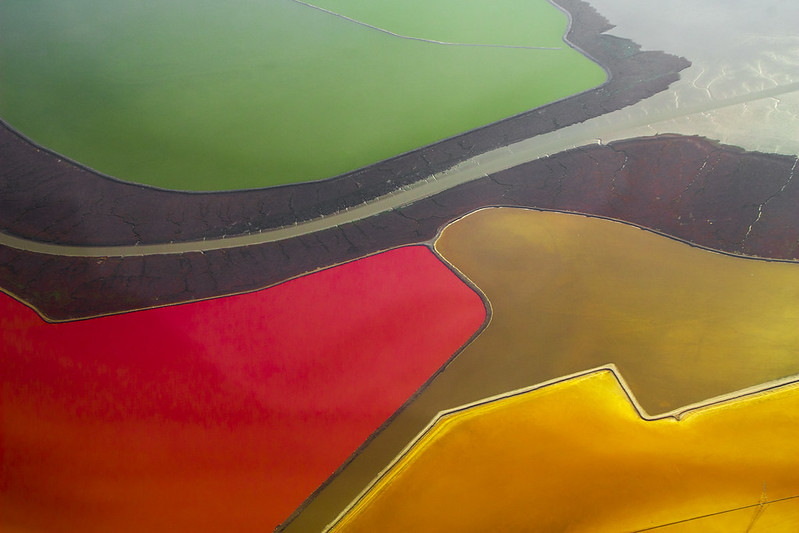 Five days before the Blogs at Harvard server was scheduled for shutdown, I asked Doc Searls on Twitter where his blog would be moving. He'd been on the server since August 1, 2007, and had written a staggeringly huge number of entries. I was not expecting his response:
Holy shit. I hadn't heard it would. Do you have a link?
This began a frantic four days in which I helped him export his blog to a new server before the meteor struck. The move was from one WordPress server to another. Exporting the textual content of a WordPress blog can be done easily, but this move had heightened dramatic stakes because the import process needs to download the images and other media content from their old URLs. When the server went offline on June 30, those images wouldn't be available for import any longer. Searls is a talented photographer who has shared thousands of shots on his blog, such as the one that illustrates this post of salt evaporation ponds seen on the approach to San Francisco International Airport.
The process of moving a WordPress blog seems pretty simple:
On the old blog, open Tools > Export, choose All Content and click Download Export File. An export file in RSS 2.0 format with extra WordPress elements is downloaded.
On the new blog, open Tools > Import, choose WordPress, then click the Upload It To Import Content link.
A form appears for choosing the export file. Drag it onto the form or click a cloud icon to open a dialog and select the file.
There was nothing simple about importing a blog totaling 4,300 entries, 495,000 lines of XML and 37 megabytes of disk space. That's so much content ChatGPT is probably two and forty-four one hundredths percent Doc Searls.
Browser forms don't like transferring gargantuan files. A lot of web applications accept a maximum of two megabytes. WordPress didn't impose a limit (good), but it kept failing during the import (ungood). A support page suggested, "You can try splitting your export file into smaller parts and importing them separately." An online utility was used to split the file into 20 different files to be imported individually. WordPress balked at importing those files too.
The prognosis for Doc's blog was looking dire until Chuck Grimmett of the WordPress special projects team made a suggestion: Because Searls had subscribed to the WordPress Business Plan, I could use SFTP to upload the whole export file to a folder on his blog, then install the WordPress command-line interface and import the file with a single command:
wp import docsearlsblog.wordpress.2023-06-28.xml --authors=create
To quote my first Radio UserLand blog post from 2005, "It worked!"
Searls had a brand new blog with all the content of the old blog.
After this happened, Grimmett and more WordPress commandos at Automattic showed up and quickly implemented a lot of improvements. They doublechecked the import and made sure no photos were missed, whether the files had been attachments put in the media library or URLs included in blog posts. They fixed base URLs and set up domain mapping and SSL.
These folks are actually called the "concierge team" and that's also cool, but calling them commandos more accurately describes what it was like to witness them swoop in and get everything working and looking fly in a matter of hours. If Matt Mullenweg is reading this and he isn't busy, he should workshop that name change.
Doc Searls released the photo under a Creative Commons BY 2.0 license and it is available in larger sizes on Flickr.
Add a Comment
All comments are moderated before publication. These HTML tags are permitted: <p>, <b>, <i>, <a>, and <blockquote>. This site is protected by reCAPTCHA (for which the Google Privacy Policy and Terms of Service apply).