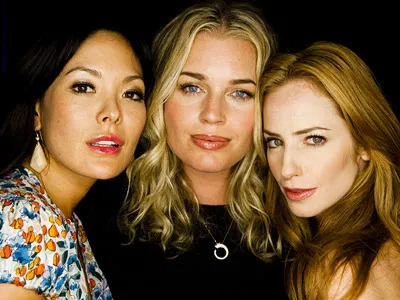 The ABC supernatural chick drama Eastwick has been cancelled, according to James Hibberd:
ABC has picked up five more episodes of Tuesday night crime drama The Forgotten while deciding against ordering additional episodes of Wednesday's Eastwick.

The Christian Slater procedural has been the stronger of the duo, both of which are produced by Warner Bros. and air at 10 p.m. Eastwick will finish production on 13 episodes and ABC plans to run them all.
There seem to be fewer shows these days that are dropped immediately from the schedule when they are cancelled. Networks let them shamble on in undead form until the produced episodes run out. Eastwick looked doomed from the first time scenes from the pilot got out, which is why it was on 45 TV Deadpool lists (including mine). Though the show didn't look very good -- the missus might disagree -- it will be a shame to have less Rebecca Romijn-Stamos-O'Connell in our homes. She deserves a better series.
Add a Comment
All comments are moderated before publication. These HTML tags are permitted: <p>, <b>, <i>, <a>, and <blockquote>. This site is protected by reCAPTCHA (for which the Google Privacy Policy and Terms of Service apply).