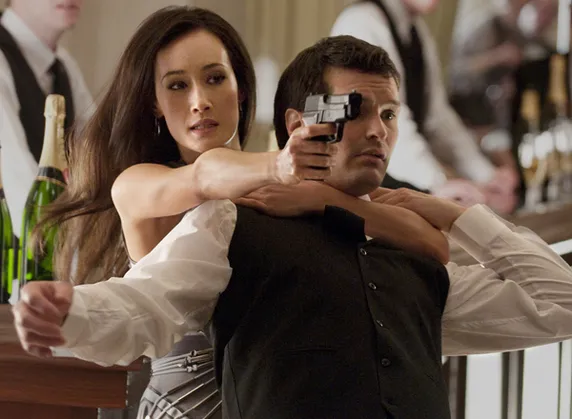 The new action series Nikita, based on the 1990 French film Le Femme Nikita, premiered Thursday night on The CW. It's the second series based on the film, following a syndicated Canadian TV series that aired from 1997 to 2001. This time around, Maggie Q plays Nikita, Shane West plays her handler, Lyndsy Fonseca plays her protege and the secret government agency is called Division instead of Operations.
There have been a lot of shows in which model-thin women kick ass, going back to Buffy the Vampire Slayer and continuing through Alias, Dollhouse and Covert Affairs. Maggie Q, the Honolulu-born actress who plays Nikita, is 5-foot-6 and 103 pounds. If she was a boxer, she'd be classed as a strawweight or mini flyweight. This does not stop her from taking down wave after wave of burly male assassins in hand-to-hand combat. Once in the pilot, she does it in an evening gown and heels. The male operatives always work in packs, so it ought to be possible to simply rush her as a group and use their considerable size advantage. Fortunately for Nikita, this does not occur to them and they attack one at a time like the bad guys in a kung fu movie.
The pilot of the series doesn't waste much time setting up the story. She wants to bring down her former employer, which has a fancy office, Big Brother technology and a bunch of prospective assassins who spar in gray sweats and look like they wandered over from Dollhouse. It's clear from the start that Nikita, despite being on her own with no resources, has Division completely outgunned. I felt sorry for them.
Nikita doesn't play as young as other shows on The CW. Lead stars Q and West are in their early 30s and the series feels like something on the USA Network. I liked West as the rock-and-roll doctor on the final seasons of ER. Here, he gets to play an enigmatic spy in middle management with divided loyalties. Q is more of a fresh face, coming to American TV after starring in Hong Kong action thrillers and taking more minor roles in the films Mission Impossible III and Live Free or Die Hard.
Only three people picked Nikita on the TV Deadpool: returning players Janine Flood and Buster Phil and somebody named Susanne who might be Susanne Dinan. I avoided the show because I couldn't pick up a comic book the past three months without seeing an ad for the series. The pilot scored a 1.4 rating, beating the finale of Rookie Blue and summer repeats of CSI and Fringe and getting stomped by the NFL season opener between the Saints and Vikings. The show is up against Grey's Anatomy (ABC), CSI (CBS), Fringe (Fox) and The Office/Outsourced (NBC). After watching the pilot I'd give it a 50/50 chance of survival, a number that would be much lower without The CW's ridiculously low ratings expectations.
Add a Comment
All comments are moderated before publication. These HTML tags are permitted: <p>, <b>, <i>, <a>, and <blockquote>. This site is protected by reCAPTCHA (for which the Google Privacy Policy and Terms of Service apply).