The Night Arthur Godfrey Fired a Singer On Live Radio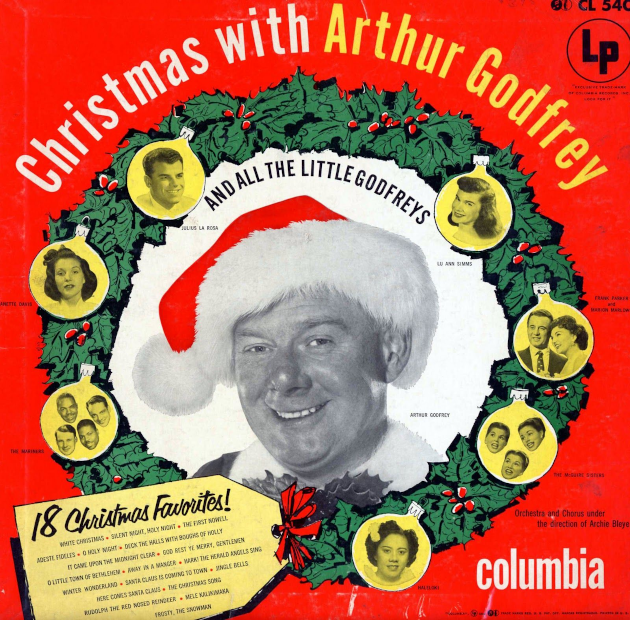 I'm a fan of old time radio, in particular the wise-cracking detective shows like Yours Truly, Johnny Dollar and Rogue's Gallery. Some of the series are getting well-deserved criticism today for their offensive racial and gender depictions -- Wisconsin Public Radio just cancelled its old time radio program after 31 years over such concerns -- but among the thousands of shows preserved at places like the Internet Archive, there's still a lot of entertainment for the ears.
While looking over archival publications on old time radio shows for Winnetoba Radio, I found a great story I hadn't heard before: The night Arthur Godfrey fired a singer on live radio.
In 1952 Archie Bleyer formed Cadence Records and had [Julius] La Rosa recording for him. La Rosa then hired a manager after his first hit record. This didn't go over too well with Sir Arthur, since none of Arthur's friends were allowed managers. La Rosa also refused (unlike all the other male stars on the show) to take dance lessons ordered by Godfrey. On top of this all, La Rosa had a thing for Dorothy McGuire. Godfrey himself also had a soft spot for McGuire. Finally on Oct. 19, 1953, La Rosa was canned right after singing "Manhattan." Godfrey called it La Rosa's "swan song."
The link includes audio of the firing, an act of public humiliation from which Godfrey's folksy reputation never recovered.
Comments
I am listening to The Green Hornet as I type this. I'm from western NY, male, and in my early 50's. I bought a subscription to XM radio a number of years ago to listen to the NHL and the MLB. I found the Radio Classics station by accident. It is run by a guy name Greg Bell. Over the years I've become fascinated by this window into the past. There are so many little things one can glean about the mindset of that era. It is also comforting in a way that some of the same problems we face now were impacting them as well. Commercials and PSA's are also fantastic. It took me a while to realize that William Bendix doing a safe driving PSA (The life you save may be your own) wasn't a contemporary spot. Listen to a series of Dragnet episodes when they were sponsored by Fatima to hear the "propagandic" gymnastics they went through to convince listeners that Fatima cigarettes were safe (No visible damage to the nose, throat, or sinuses--but what about the LUNGS???). Look for the X Minus 1 episode from 6 February 1957 called Venus is a Man's World for an episode that could have been written by any "incel" of today. I'm generally not a fan of the comedies, though, with notable exceptions for shows like Vic & Sade, the Stan Freberg show, Jack Benny, and Fred Allen. You are not alone in your Johnny Dollar fandom. The man with the action packed expense account (especially the Bob Bailey led episodes) are said to be some of the most popular shows on Radio Classics. I've been reading your stuff going back to the cruel.com days. Too bad Pope Benedict never sent you one of those hats.
I'm a big fan of Johnny Dollar and Rogue's Gallery!
I've enjoyed Radio Classics many times on SiriusXM on long drives. The way smoking is implied to be safe for your health in old radio ads is disturbing. X Minus 1 has some great episodes. I don't recall hearing that one but I'll look it up.

If Pope Benny is reading this I would still like the hat.
Add a Comment
All comments are moderated before publication. These HTML tags are permitted: <p>, <b>, <i>, <a>, and <blockquote>. This site is protected by reCAPTCHA (for which the Google Privacy Policy and Terms of Service apply).