Upload: Do You Really Want to Live Forever?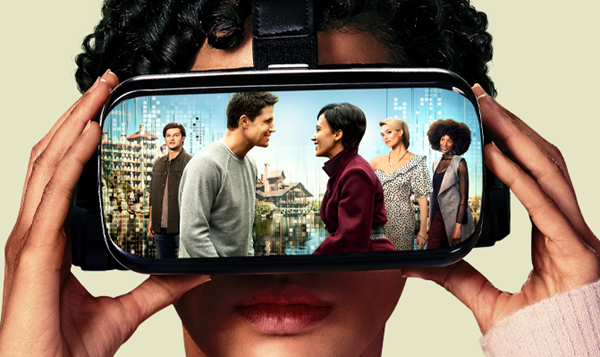 I just finished watching the 10-episode first season of Upload, which just got renewed for a second on Amazon Prime only seven days after its debut.
The show's an oddball take on the afterlife in which anyone can be uploaded to a virtual world shortly before death and still interact with their loved ones. Robbie Amell plays a handsome but shallow app developer who dies under suspicious circumstances in his self-driving car. Andy Allo is his "angel," the tech support rep guiding him through his second life.
There are afterlife worlds for many different budgets, though even the toniest is pleasant on the surface but dire underneath. Amell's girlfriend pays for his continued existence and thus has total control, which inspires her to say for the first time "I love you." When he expresses surprise that she level-jumped their relationship, she replies, "It's not like I can scare you off with that any more."
The biggest laughs come from how horrible the world has become in 2033. This extends to the afterlife, where there are floating three-dimensional banner ads, Taco Bell cheesy gordita upsells and corporate exploitation of private thoughts so relentless Mark Zuckerberg will be upset he didn't think of it first.
Allo's really good as the young tech who starts to fall in love with her client despite being told that long distance living-dead relationships never work.
After The Good Place, I didn't think I needed another afterlife series but I like that I can't figure out what Upload is supposed to be. It's genuinely funny at times but the characters inhabit a world as dark and divided by class as Terry Gilliam's Brazil.
After it ended on a killer cliffhanger I'm looking forward to the second season, which is likely to take awhile with TV production closed down for the pandemic.
Comments
Looking forward to...too

Add a Comment
All comments are moderated before publication. These HTML tags are permitted: <p>, <b>, <i>, <a>, and <blockquote>. This site is protected by reCAPTCHA (for which the Google Privacy Policy and Terms of Service apply).