I passed the ServiceNow certified application developer test today at the University of Florida after taking the official training course for three days last week. It's a closed-book 90-minute, 60-question test that requires 70% to pass and doesn't reveal your score or the answers you missed.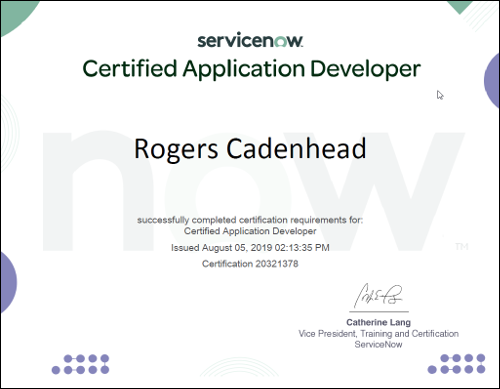 I've been writing custom applications and integrations using JavaScript in the ServiceNow cloud for three years, so I was ready to take the test. But even so, a few questions had me sweating like Albert Brooks in Broadcast News.
As you take the test, you can mark some answers for review before submission in case you're not entirely sure you got them right. I designated 27 of them for a second look. On around five of those, I kept talking myself into one answer before switching back to another.
In the last 12 days I've spent six days in training class and two more taking certification tests. My brain is full. If anybody tells me anything new about ServiceNow today I'll tip over.
Comments
I know that feeling all to well. Your brain is at full capacity and it really feels like a balloon anything more goes in and BOOM!!
Congrats Rogers..

I felt the same way about the AWS Certified Cloud Practitioner's exam.
Add a Comment
All comments are moderated before publication. These HTML tags are permitted: <p>, <b>, <i>, <a>, and <blockquote>. This site is protected by reCAPTCHA (for which the Google Privacy Policy and Terms of Service apply).