I'm a ServiceNow Certified Application Developer
I passed the ServiceNow certified application developer test today at the University of Florida after taking the official training course for three days last week. It's a closed-book 90-minute, 60-question test that requires 70% to pass and doesn't reveal your score or the answers you missed.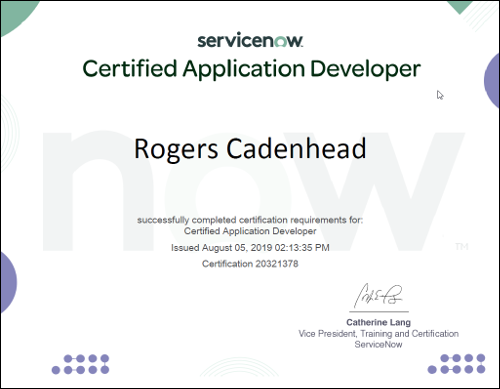 I've been writing custom applications and integrations using JavaScript in the ServiceNow cloud for three years, so I was ready to take the test. But even so, a few questions had me sweating like Albert Brooks in Broadcast News.
As you take the test, you can mark some answers for review before submission in case you're not entirely sure you got them right. I designated 27 of them for a second look. On around five of those, I kept talking myself into one answer before switching back to another.
In the last 12 days I've spent six days in training class and two more taking certification tests. My brain is full. If anybody tells me anything new about ServiceNow today I'll tip over.
I'm a ServiceNow Certified System Administrator
I just passed the test to become a ServiceNow Certified System Administrator. I'm in classes this week to take the test for developer certification next.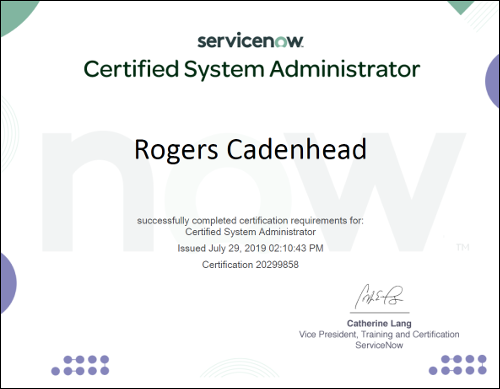 Certifications are a big deal in the ServiceNow world. I'm in my third year programming on the cloud platform but certification hasn't been a priority. I've been at a startup developing products, which is less about marketing yourself and more about marketing those applications.
But I've always wanted to seek certification, so I paid for the training myself this month. You have to take a three-day class on servicenow.sabacloud.com for $1,200 to get a voucher that allows you to take the test on Webassessor. It's a 60-question, 90-minute exam that can be taken at a proctored testing center or online. I chose to go to FSCJ Deerwood in Jacksonville.
Passing requires 70%. You aren't told your exact score or which questions you missed. A few questions were devious -- ServiceNow's test prep material warned that some multiple-choice answers would be "distractors" intended to flummox "a candidate with incomplete skill or knowledge." I found out at the testing center that I passed and would be receiving a PDF to mark the achievement. I wanted to tell people that like Ron Burgundy, I'm kind of a big deal.