Review: 'Eternity Road' by Jack McDevitt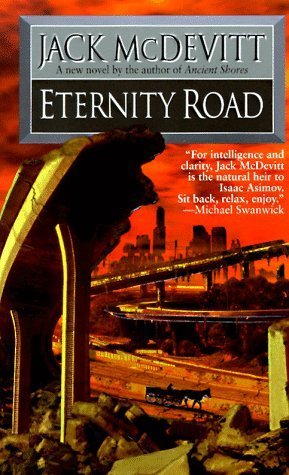 This post-apocalyptic novel occurs long after the fall of civilization. Humans in an agrarian society along the Mississippi River yearn to learn more about the Roadmakers, so named because of the enormous network of roads left behind. Little else survives other than six books and a lot of garbage impervious to decay. Ten years after a quest to learn more ends in tragedy, the lone survivor's death leads to a discovery in his belongings. This sparks a dangerous new quest by a small band to cross the continent and find a legendary place where civilization endured.
Jack McDevitt's novel is a love letter to the importance of books. The best moments see the protagonists puzzle over ancient objects and places they encounter. The pacing is pokey until it races to a last-third payoff resolving the core mystery in a satisfying way. Seeing humans grapple with ways to invent better engines for river travel reminded me of Philip José Farmer's Riverworld, another work that venerates human ingenuity.
Add a Comment
All comments are moderated before publication. These HTML tags are permitted: <p>, <b>, <i>, <a>, and <blockquote>. This site is protected by reCAPTCHA (for which the Google Privacy Policy and Terms of Service apply).