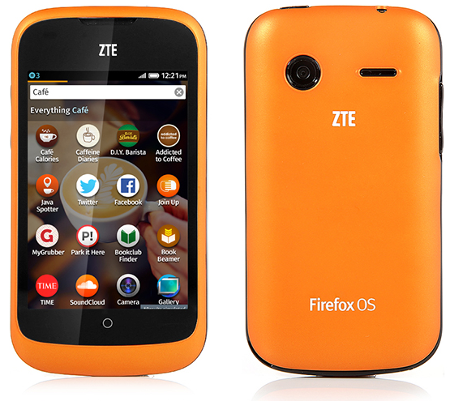 On Friday, the Chinese smartphone manufacturer ZTE's eBay store will be selling the first phone in the U.S. that runs the new Firefox OS. The $80 ZTE Open will be unlocked so that customers can sign up to any carrier and use apps that run without installation.
Firefox OS is an open source operating system built atop a Linux kernel. Apps are implemented with HTML5, Javascript and other open web standards, so any website designed to function as an app will work. In a mobile environment completely dominated by Apple and Google, this is an attempt to pry loose their stranglehold through open web standards and unrestricted data-sharing among apps.
There is an official Firefox Marketplace, but it's not the only way apps can be distributed. Other providers can set up marketplaces and apps can even run without installation at all.
Firefox executive Jay Sullivan covered the basics of Firefox OS in a short video. One innovative feature is how user searches can make apps available even when they're not on the device. He demonstrated how a search for the movie Skyfall presented apps for IMDB, Fandango, Netflix and other movie-related services. "My phone immediately transforms itself. Now it's all about movies," he said. "What's interesting is that I may never have seen those applications before. They're shown to me in real time based on what I care about."
Andy Boxtall of Digital Trends writes:
... it's hardly a spec powerhouse, and with a 1GHz single core chip, a 3.5-inch screen, 3.2-megapixel camera, and 256MB of RAM, it's nobody's dream phone. It does have GPS, 3G connectivity, a microSD card slot, and Wi-Fi, so it's by no means useless.
I'm a late adopter on mobile programming, so I have no idea whether a carrier deal might be cheap enough to make it worthwhile to buy one of these to experiment on. But as someone who loathes the walled garden model for software distribution, where a central authority like Apple decides whether your app or content is allowed to run on its device, I'd love to see phones that act more like the web. In 18 years, I've never needed anybody's permission to publish a website or offer software that runs on desktop computers. I want that freedom on my phone.
Add a Comment
All comments are moderated before publication. These HTML tags are permitted: <p>, <b>, <i>, <a>, and <blockquote>. This site is protected by reCAPTCHA (for which the Google Privacy Policy and Terms of Service apply).