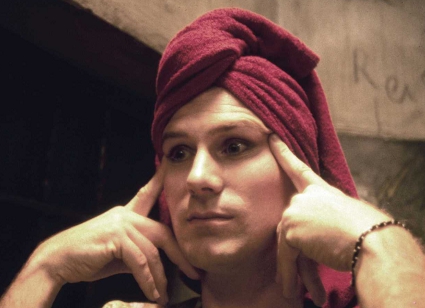 I just finished reading Kiss of the Spider Woman, the 1976 Manuel Puig novel that became a terrific 1985 film. William Hurt won an Oscar playing Molina, a gay window dresser sharing a prison cell with Valentin, a straight Marxist revolutionary played by Raul Julia. To pass the time, Molina retells his favorite movies to Valentin.
The book held my interest but was difficult to read because of the experimental fiction techniques used by Puig. Most of the book is told through dialogue between the two men but the identity of the current speaker is never provided. Instead, an em-dash marks where a new person has begun to talk, as in this passage:
--She goes to the kitchen and makes toast with butter, and that crunchy cereal they have up there, and ...

--Don't talk about food.

--And pancakes ...

--Really, I'm serious about it. No food and no naked girls.

--Okay, so she wakes him up and he's happy to see her so comfortable in his home and he asks her if she wants to stay and live there forever.
You're never told who the speakers are. Instead, you learn gradually about the two men and the reasons for their imprisonment. The majority of the dialogue is devoted to Molina retelling movies at great length, but Valentin interrupts and the men occasionally talk about themselves. The funniest parts of the book are where the super-serious Marxist gives running commentary on films that would never appeal to him, each a tragic romance with a glorious leading lady in fabulous attire.
The rest of the novel consist of official transcripts of conversations between Molina and the warden, surveillance reports on one of the men after his release, weird academic footnotes regarding the psychology of homosexuality and an awesome stream of consciousness that goes on for six pages without a single verb:
--a European woman, a bright woman, a beautiful woman, an educated woman, a woman with a knowledge of international politics, a woman with a knowledge of Marxism, a woman with whom it isn't necessary to explain it all from A to Z, a woman who knows how to stimulate a man's thinking with an intelligent question, a woman of unbribable integrity, a woman of impeccable taste, a woman of discreet but elegant dress ... a woman who understands the problems of a Latin American, a European woman who admires a Latin American revolutionary ...
The passage reminded me of a song by the alternative band Cake: "I want a girl with a short skirt and a long jacket."
Add a Comment
All comments are moderated before publication. These HTML tags are permitted: <p>, <b>, <i>, <a>, and <blockquote>. This site is protected by reCAPTCHA (for which the Google Privacy Policy and Terms of Service apply).