My newest book, Sams Teach Yourself Java in 24 Hours, Fifth Edition, recently hit bookstores. The book is a for-absolute-beginners guide to programming Java, and this section from chapter one's Q&A section shows how much license I get from the publisher to have fun with the series:
Q. Do you only answer questions about Java?

A. Not at all. Ask me anything.

Q. Okay, why is Prince mad at the Foo Fighters?

A. Prince is unhappy that the Foo Fighters performed a cover of his song "Darling Nikki" and released it as a B-side single in Australia. He told Entertainment Weekly they should write their own tunes and wouldn't let the band release it in the United States. This became a pretty meaningless distinction as the song became a radio hit around the globe and was played regularly during their concerts.

When Prince performed at Super Bowl XLI a few years later, he covered the Foo Fighters' "Best of You," an artistic decision that surprised the Foo Fighters as much as everybody else.

"It was pretty amazing to have a guy like Prince covering one of our songs," Foo Fighters drummer Taylor Hawkins told MTV, "and actually doing it better than we did."

Although playing someone else's music is an odd way to exercise a grudge, this was a better option for the 5-foot-2 Prince than challenging the band to a fight.
Every chapter ends with one reader question that has bupkiss to do with Java. I used to be the Fort Worth Star-Telegram's Ed Brice, an answer man who fielded random questions, so old habits die hard.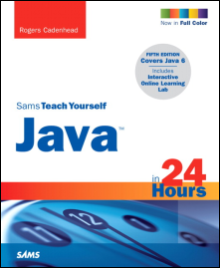 My book has been fully updated for Java 6 and has new chapters on JAX-WS and game programming. I have 20 copies I'd like to give to people who want to learn Java, and there's still time for me to mail them before Christmas.
If you know someone who wants to learn Java, or you can make a convincing case for why Santa owes you this book after the year 2009 you just endured, please leave a comment here on Workbench or in a Twitter post to rcade. Make sure I have some means of contacting you, so I can get the address of the person getting the book.
I'm planning on mailing these out on Wednesday morning in the pre-Christmas scrum at the post office. I will mail the books directly to the people receiving them and can put your name and address as the sender and wrap them if necessary. No one needs to know I was involved.
Please note that I'm expecting the people who get this free book to teach themselves Java in a single contiguous 24-hour period. For too long, Sams has coddled readers who devote one hour a day to a subject and learn it at their leisure.
Comments
After posting a comment, use the send me email link to tell me your name and address, and that of the recipient. Act now. Supplies limited.
With downsizing going on everywhere, I need to be able to work through issues that have been left behind for me and my team. I can then share the wealth with them and we can jump in where we used to stall in the past.
Since I got the RadioUserland book from you years before, I may be disqualified, but I'd like to throw my hat in the ring. Java is a language that has always been at the edges of my brain, never quite moving to the top. If chosen, I'll work with you to pick a day and then chronicle the efforts on Twitter and my blog, sending traffic your way.

I'm hoping that a good book and some dedication can move my learning of a fundamental language like Java to the top of my list. I promise to be fair and balanced, but not in a FOX Newsy way.
Looking forward to learning Java in 24 hours!
I will consume this book in one 24 hour stretch, fueled by only by strong coffee and a burning desire to create applets.
I want to add one more thing I can do at my job. And, being able to do it in 24 hours is even better!
I really need this book!!! I have to compete with much larger sites, and this book will help me with drop down menus and animation that the other sites have and I can't afford to pay someone to compete. Help Help Help!
As an out of work mainframe programmer past middle age this may be my entry back into the workforce.

After losing my job almost a year ago, I need to learn this along with the other things I have been learning during this "time-off". I also trust Sam's, as I have enjoyed their books previously. Thank you.
I'm going into Computer Information Systems and this would make a great present to myself. Thanks, hopefully.
I'm not getting any emails yet from people who want a book. I have to be able to contact you to find out the mailing address. So send me email or put your email address in your comment.
I'm taking an Intro to computer programming course next semester. I'd like to get a copy of this book as Java is going to be my programming language of choice.

Thanks!!!!
I would love to learn Java!
SCI@ALTAZIP.COM
Me... Me... Me....
sea_ms@yahoo.com
I Love you, thanks to you and the sky above
As a mainframe programmer and working for a mega company who has cut my pay 3 times this year while making stellar grandiose profits - such that they are giving everyone year end bonuses and then announcing all pay raises in 2010 will be non existant, I need to upgrade my skills. The town in which i live in has very little use for mainframers and i need to break out and get some upgraded skillzz. 24 hours to learn Java - can it be done? IF it can - I'm uber programmer and can do it! with a little help. thanks
danaturney8@yahoo.com
If you don't get 20 requests for the book, and have one available, I'd like to take a crack at learning Java.

If all the books are spoken for, not to worry, I can always buy one.

So stoked!! Been teaching myself various programming languages for years, but never got around to Java. I would love the opportunity to learn it in 24 hours!!

Wow. Thanks!
rcade, I'd love to have the book just so I can better post stuff on Sports Filter. The snarkier the better. I'd also promise that once I get good enough not to need the book anymore, I'll pass it along.
I would love to learn JAVA, I graduated from college in May of 08 and have been interning while looking for a permanent job (horrible economy and all). I was working as a Communications intern for about 8 months and was introduced to basic HTML. I would love to expand this limited knowledge base so I can be a useful employee when I ultimately find work.

If you are kind enough to provide me with a copy please email me at BrooklynHumanist@gmail.com

Thanks a lot,
Ian
Please please please. I am a current graphic design/CIS student pursuing my BS & I would really love a book like this. I love both Prince & The Foo Fighters
PS, you're very handsome.
I see you have exceeded twenty (20) comments. However, I feel I could better utilize this book more-so than the previous posters. First off, I'm poorer than dirt and don't leach off the government, so getting it for free would be just fantastic. Second, I know several other OO languages and think JAVA would be great to add to the 'ol arsenal. And third, I'll actually read it. I have a bookshelf of programming how-to and reference books I've already plowed through - my wife thinks I'm nuts, but I enjoy reading them.

24 hours? But I want to know Java now!

My nerd friends will hate me for reading this book, learning Java, and throwing Java terms around in conversation. Therefore I must have it. I know SQL but that's not really useful unless there's a database around. Java seems more of a pocketknife type tool and I could use one of those.

Please note that I'm expecting the people who get this free book to teach themselves Java in a single contiguous 24-hour period.

I've got coffee!

A good friend is working on a very complex encryption product (written in Java) in 2010 and he needs to brush up on his skills. He's a good guy, just a little rusty from all his game coding in C#

Addy:
Nnaemeka Emejulu
1779 Wells Branch Pkwy
PMB #201
Austin Texas 78728
I would like to write awesome apps on my Palm Pre so I can become a billionaire, at which point I will feel compelled to repay your kindness with a free copy of my soon to be released book ... "How to maky BILLIONS with Java"

Thanks
I don't want one of the free books, I'll just plug past versions. Clear cut explanations and great reinforcing exercises. We had a copy that went 'round and 'round the office until it was dog eared and falling apart.
I have been needing and wanting to learn Java for a while now. I am interested in your book, propbably more for reading your tidbits at the end of each chapter to tell the truth but learning Java to get to those bits would be a perk.
I'd love a copy of your book... never been able to grasp programming so maybe this will turn the tide.

As an unemployed worker trying to break into an new industry (IT) I am eager for any and all resources that I might use to develop new skills. In college and during my tenure at one employer I took the classes that were available and got as far as being able to execute the "Hello World" exercise in C before being told that my energies were needed elsewhere. Now that I have a compelling need for these skills I'm finding that I lack the funds for them after the unemployment ran out so I humbly ask that I be considered for your offer of a free book. Thank you and Happy Holidays!
Young mathematics teacher trying to find new ways to make math more interactive and fun for my kids. I've seen some great things that Java can do with geometry, and I'm looking forward to seeing what else I can make of it.

I need this book more than anyone else here. This is due to a myriad of reasons, but the basic fact is that I need to be continually challenged with newer and more difficult challenges. I have already learned to be a brain surgeon (dummy book series) and a lawyer (cracker jack box), so learning how to program in Java will make me the well rounded individual that will get all the hot chicks and a BMW M5. Then I can get married and start my dysfunctional generational cycle all over again... whoo hoo!

So my whole life will (figuratively speaking) reach orgasm will I get this book. When are you sending it?

thanks in advance for your help in solving all my life's problems-

I was looking at making some games online, but it requires Java programming experience. Sign me up for learning this through the book, with a pet project in mind...I'll use the project as my homework to see if I can actually learn Java...and I'll do it in an all-nighter format.
I would appreciate receiving a "free" copy of your latest JAVA book from Santa to assist in the development of the not-for-profit/non-profit Coparenting Kids for Courts Association website AND also in setting up a website to post messages to my son, J.D., whom I have been denied access to speak to or see for the last ten (10) months despite all efforts; parental alienation is at work and I am desperately seeking to reestablish a loving Father-Son Relationship. Thank you for your consideration of my request for the free book; have a wonderful 2009 Holiday Season! Sincerely, J.P. Hemminger
Always wanted to learn Java
Don't have a web site, but always wanted to learn Java. My email is warren494@yahoo.com
I look forward to receiving this book! Thanks!
About 2 months ago, I taught myself Expressions Web 3 and created this website, aussiepouch.com. I would like to increase my java capabilities to add some applications to future websites. Maybe I can figure out how to work some java script into this website somewhere. Actually I think my google shopping cart use some java script, but I didn't write it. Thanks!
Hello,

I'm learning Java now tryng to get my bachelors degree in Information Technology. I need all the help I can get! I'm taking the SCJA exam very soon but after the exam I want to keep programming in Java. Please help.

Mark Carson

Hi,

I have never programed beyond basic. Always wanted to learn Java. Maybe now is the time.

Bill King

I would love to learn Java.

Drew Cayton

Well, I don't have a real sad story and my job is not depending on me learning JAVA. I just really, really, want to learn it! I would love to have a guide that was well organized and focused on the basics; two things that are hard to find online.

If this is any reason for deserving the book, I lost my membership at two fishing organizations canceled my membership this year.

Thanks for the great contest.
Because I'm worried that if I don't learn Java in 24 hours, the terrorists will win.
3 reasons I need to learn Java in 24 hours:

1) Will finally have something in common with my wife when she says lets give up and make some Java

2) My 12 year old daughter just passed me in computer knowledge, need to get back to being the know everything Dad

3) I am closing my small business after 5 years and a new venture will fair much better with a good knowledge of Java.

Thanks!!!
This is very kind of you. Thank You for such a great deal I look forward to learning from your book
Best Regards
Gary.e.killmer@gmail.com

Gary E Killmer
77 Sleight Plass Rd
Poughkeepsie New York 12603
I learned to count in binary. Then I tried to learn how to count in hex. That did not go well, so I figured I'd learn Java!

I just learned HTML, and it opened my eyes to a world I didn't know existed.

Also, I believe I have enough stock-piled mountain dew to adhere to your 24 hour challenge!

I am a web designer/developer and graphics specialist for the NJ Legislature. I am good with graphics and web design, not so great at programming. My husband, a junior college network instructor, had a stroke in October. He is still working, but because of his symptoms I am afraid he will lose his job. I will need to be the sole provider. At my current job, that will not happen. I need to learn Java in 24 hours so I can be more marketable. I need a better job and this will help me do that!
Thanks.
janine@janinedillard.com
I have received around 80 requests for the 20 copies I'm giving away, so more requests at this point would be futile. Thanks for the interest, everyone ... I am making a list and checking it twice and will be mailing books tomorrow.
I would be interested in reading this book immediately. I work with php and visual basic regularly but Java is an area I have failed to explore because it alwasy felt out of my comfort zone. Your book would bridge the gap.

Thank you for your time.

My husband has had a hard time finding work after the tech company he worked at downsized. He has been keeping busy looking for steady work and freelancing. He makes a lot of comments about Java being something he needs to learn to be competitive. I would like to get him this book and let him know I have faith in him.

Roger,

Headline: "Small Church Website Needs Revitalization"

I just discovered Workbench, so as usual, I'm late to the party. :-) But should you happen to find one more copy, I'd be more than thrilled and grateful to get an autographed copy.

I'm retired and fledgling new web guy who created my church's web site to keep my mind going. Learning java could help spiff things up a bit. Would learning Java also help me understand javascript?

So if you come upon another copy, thank you. You can reach me via webmaster at the church URL.

Thank you and Merry Christmas!
- bob

Hi
Seasons Greetings to you
Would you be able to spare a copy for me? i've been out of a job for quite some time, and wouldnt mind polishing up my tech skills and learning something new
Please email me at
orthodoxparadox "@" yahoo.com
and i will send you my contact info

thanks so much

Happy Holidays
I am a fairly new webmaster for the VA Hospital in columbia, mo. I am very interested in learning Java code. I just recently have learned how to build a search in SharePoint 2007 by embedding java code in to a content editor webpart, and was amazed at how great it worked.
I am probably to late, but thought it was worth a try.
I hope you have a very merry christmas and a blessed new year.

Mark.
Add a Comment
All comments are moderated before publication. These HTML tags are permitted: <p>, <b>, <i>, <a>, and <blockquote>. This site is protected by reCAPTCHA (for which the Google Privacy Policy and Terms of Service apply).