Book Giveaway: Teach Yourself Java in 24 Hours
My newest book, Sams Teach Yourself Java in 24 Hours, Fifth Edition, recently hit bookstores. The book is a for-absolute-beginners guide to programming Java, and this section from chapter one's Q&A section shows how much license I get from the publisher to have fun with the series:
Q. Do you only answer questions about Java?

A. Not at all. Ask me anything.

Q. Okay, why is Prince mad at the Foo Fighters?

A. Prince is unhappy that the Foo Fighters performed a cover of his song "Darling Nikki" and released it as a B-side single in Australia. He told Entertainment Weekly they should write their own tunes and wouldn't let the band release it in the United States. This became a pretty meaningless distinction as the song became a radio hit around the globe and was played regularly during their concerts.

When Prince performed at Super Bowl XLI a few years later, he covered the Foo Fighters' "Best of You," an artistic decision that surprised the Foo Fighters as much as everybody else.

"It was pretty amazing to have a guy like Prince covering one of our songs," Foo Fighters drummer Taylor Hawkins told MTV, "and actually doing it better than we did."

Although playing someone else's music is an odd way to exercise a grudge, this was a better option for the 5-foot-2 Prince than challenging the band to a fight.
Every chapter ends with one reader question that has bupkiss to do with Java. I used to be the Fort Worth Star-Telegram's Ed Brice, an answer man who fielded random questions, so old habits die hard.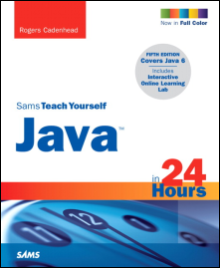 My book has been fully updated for Java 6 and has new chapters on JAX-WS and game programming. I have 20 copies I'd like to give to people who want to learn Java, and there's still time for me to mail them before Christmas.
If you know someone who wants to learn Java, or you can make a convincing case for why Santa owes you this book after the year 2009 you just endured, please leave a comment here on Workbench or in a Twitter post to rcade. Make sure I have some means of contacting you, so I can get the address of the person getting the book.
I'm planning on mailing these out on Wednesday morning in the pre-Christmas scrum at the post office. I will mail the books directly to the people receiving them and can put your name and address as the sender and wrap them if necessary. No one needs to know I was involved.
Please note that I'm expecting the people who get this free book to teach themselves Java in a single contiguous 24-hour period. For too long, Sams has coddled readers who devote one hour a day to a subject and learn it at their leisure.