CDC Official: Vaccine Distribution Remains 'Bumpy'
The shortage of H1N1 swine flu vaccine in some parts of the country continues to be a concern of the federal government's vaccination authorities, immunologist Anne Schuchat said this afternoon during a briefing for bloggers on the pandemic. "This has really been bumpy," Schuchat said as she fielded questions from California and other places where supplies of the vaccine has been extremely difficult for people to find. "As of today, 58.9 million doses of H1N1 vaccine have become available for the states to order."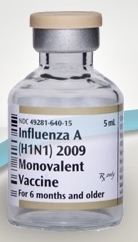 I participated in the hour-long "bloginar," which was held by the Department of Health and Human Services. Schuchat, the director of the National Center for Immunization and Respiratory Diseases at the Centers for Disease Control and Prevention, answered questions for an hour submitted over email and Twitter.
There are 43 states in which influenza is categorized as widespread, compared to zero at this time in a normal year, she said. Children, pregnant women and health care professionals are among the high-risk groups urged to get vaccinated. She encouraged bloggers to share a Flu Vaccine Locator widget from its Flu.Gov web site, which helps people find the vaccine in their area.
When asked about the safety of the swine flu vaccine, Schuchat said that it's no different than the seasonal flu vaccines that have been offered for years. "It is produced exactly the same way," she said. The companies that are producing the vaccine use the same production process and undergo "the same kind of oversight with FDA inspections and visits."
Another blogger asked about the decision not to include an adjuvant in the vaccine. Adjuvants are "substances that are put in vaccines to improve the immune response," Schuchat explained. The federal government bought adjuvant to store in case it was needed, but has found that the normal 15-microgram dose of antigen in the current swine flu vaccine has been sufficient.
Current vaccine producers are not licensed to include an adjuvant in the United States, she said. This means that an "emergency use authorization" would have been required to make use of them to fight swine flu. "We worried that the use of adjuvants at this point wouldn't be acceptable to people," she said.
I posed this question to Schuchat: What can you say to address the concerns of people who believe the long-term health effects of flu vaccines have not been adequately studied?
Schuchat replied that "influenza vaccines have a very good safety track record," pointing out that 100 million doses are dispensed per year. "I'm not aware of any problems about long-term safety." The National Institutes of Health are funding studies to observe whether any concerns arise for pregnant women who have been given the swine flu vaccine this year.
As someone who's gotten vaccinated along with my wife and children, I was passing along a concern raised by a reader on the Drudge Retort. I've been surprised by the number of people who get the yearly flu shot but have been hesitant to get the swine flu vaccine. The vaccine is currently available in several places here in St. Augustine and Jacksonville, though I have friends and family in Texas and California who can't find it anywhere.
An archived broadcast of the briefing can be viewed on Flu.Gov, which has other resources for people who have questions about the flu pandemic and vaccine. The site has a self-evaluation tool for people who are battling flu-like symptoms and a fraudulent H1N1 products widget that a DHHS official urged bloggers and social networking users to share.
Comments
Great. Did you ask why adults are getting vaccinated before pregnant women and children with preexisting conditions? I mean white male adults with no preexisting conditions. Guess not. You're a real crusader for truth and justice.
I'm surprised this article has been up for a whole day and isn't yet flooded by tinfoil hat vaccine-phobic semiliterates...
Did you ask why adults are getting vaccinated before pregnant women and children with preexisting conditions?

No. The vaccine is readily available here for anyone who wants it. I paid around $20 for my shot at a Solantic walk-in urgent care clinic.

You're a real crusader for truth and justice.

When I got the shot, there was no shortage here and local health officials were not rationing it. If everybody waits around to get the shot because supplies are scarce elsewhere, there will be more people getting the flu and spreading it. I have no qualms whatsoever about getting vaccinated as soon as it became generally available in my area.
All I can tell is, that I know, that the swine flu is in the end nothing than a normal flu.

But the swine flu is more dangerous for old e.g decrepit person and chronically ill people.

among my acquaintances was someone which had the swine flue.
But me and my girlfriend and the others dont get the flue.
So, i thought the flu is so dangerous?
apparently not.

and i heard also that a child were for one day ill.
He had the swine flu symptoms but he hadnt the swine flue.

and another young boy wasnt ill but tas things turned out the doctor tells him that he has the virus in him.

I think that the most people of all make to much drama :/

In Wisconsin, my entire family had gotten ill before either the seasonal or H1N1 vaccines were available. Only last week H1N1 vaccine made available to kids who were not considered high-risk. I, myself, STILL can't get an H1N1 shot because I am not considered high-risk. I cannot obtain Tamiflu anti-viral medication for any member of my family who gets the flu because there are apparently shortages of that as well and none of us are high risk. The doctors here will not prescribe it and I'm not sure that sort of rationing is legal. Is it?

So, as it stands, my entire family will have gotten flu before vaccines were even available to us. Seems a little pointless now to get the shots but we'll probably still do it.
Add a Comment
All comments are moderated before publication. These HTML tags are permitted: <p>, <b>, <i>, <a>, and <blockquote>. This site is protected by reCAPTCHA (for which the Google Privacy Policy and Terms of Service apply).