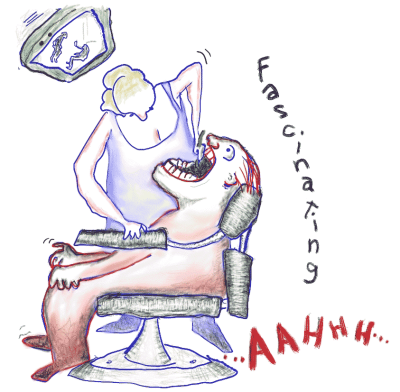 The actor Jeff Bridges passes along a fish tale I hadn't heard before, concerning a fisherman in Wichita, Kan., who saw a basketball behaving oddly in a lake:
It turned out to be a flathead catfish who had obviously tried to swallow a basketball which became stuck in its mouth!!

The fish was totally exhausted from trying to dive, but unable to because the ball would always bring him back up to the surface.

Bill tried numerous times to get the ball out, but was unsuccessful. He finally had his wife, Pam, cut the ball in order to deflate it and release the hungry catfish.
The story appears to be legit, according to About.Com's Urban Legends site.
The tale led me to Bridges' blog, which he publishes entirely in the form of doodles. His October update includes this drawing from his most recent dental cleaning, where his hygienist offered him a headlines and "pretty images + music or a dose of terror." He chose terror.
Bridges' doodles make particularly inspired use of hyperlinks, such as the one that promotes his upcoming-in-2010 film Men Who Stare at Goats. "Click goat droppings for information," he urges.
Add a Comment
All comments are moderated before publication. These HTML tags are permitted: <p>, <b>, <i>, <a>, and <blockquote>. This site is protected by reCAPTCHA (for which the Google Privacy Policy and Terms of Service apply).