A year ago the RSS Advisory Board moved to its own domain, losing all Google juice associated with its old site. Because the search term RSS is enormously popular, we've found it difficult to attract search traffic and build a decent Google pagerank. It took nearly a year to crack the top 100 for that term on Google; we're currently up to the 80s.
I've been using this experience to learn the arcane art of search engine optimization (SEO).
The first SEO technique I undertook to make Google happy was to add my sites to Google Webmaster, a free tool that shows you how Google's discovering and indexing your content. Once you verify your site's ownership by adding a meta tag to the home page's header, you can view search query stats and page rank information, create sitemaps and find out the errors Google encountered while crawling your site. This week, Google added a killer new feature: Link reports that count incoming links for each of your pages and list all of those links.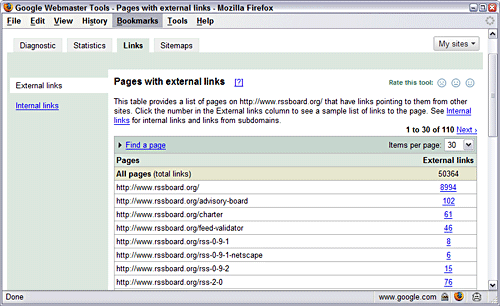 Next, I developed an XML sitemap for rssboard.org and a user-friendly site index and error page.
Creating these features taught me that I've been making a huge mistake on my weblogs by duplicating content over multiple URLs. My weblog entries can be read at a short URL, long URL, date-based URL, tag-based URL, and archive URLs -- all of which were indexed by Google. Publishing as many as a dozen copies of the same content triggers Google's duplicate-content filter, downgrading most of these pages into the "omitted results" index that Google refers to in messages like this:
In order to show you the most relevant results, we have omitted some entries very similar to the 1 already displayed.
I'm correcting the problem by removing most of these URLs from Google's index by adding a noindex, follow robots header to duplicate pages with my publishing software:
<meta name="robots" content="noindex, follow" />
Users can still request these URLs as they navigate a site, but the only ones stored by Google are an entry's official URL and current tag pages. When I use a shortcut URL, I redirect it with an HTTP header that tells Google it's a permanent move:
HTTP/1.1 301 Moved Permanently
Though it's tough to quantify whether SEO techniques are working, the board's site has risen consistently (but slowly) in the rankings.
Comments
I've found that proper "301 Moved Permanently" redirections from the old site to the new preserve much of your Google juice.
This brings back not so fond memories of the one and only time I helped a relative try out some cyber venture. The site is long gone and we fiddled and tweaked away at trying to get the site up onto the first page for our chosen target search phrase.

What I really learned is the patience of a saint. That and how quickly Google Ads empties your wallet and won't (can't) account for what they're charging for clicks.

Oh. That and never to do a business with a relative. But that one I learned back in my lemonaid stand days.

Regards,
etc.
Hmm ... I see the site at #178 now.

Definitely do a 301 Moved Permanently from the old site, seconded.

Note PageRank isn't everything.

You'll need some serious "trust" links to break the top ten, if you can't transfer the accumulated past reputation.

This is great help. I have been working for HedgeStop.com, start-up financial news website for young professionals, and we have been trying to move our way up the search engine results for a while now.

Will definitely check this out! The fantasy stock market game on HedgeStop is the best on the web and hopefully with these tricks, it will move higher up the pecking order.

Thanks,

James
Definitely do a 301 Moved Permanently from the old site, seconded.

That wasn't an option in this case. We had to start anew.
Hi, Rogers.

Another good trick is seeding comment boards with comments like the above blatant plug for HedgeStop.

See the URL href'd from my name for my personl SEO adventure. The biggest help for me was creating links from other domains I own ... surprisingly, Google doesn't seem to care that most of these live at the same IP address. I have a log available on-line if you're interested. I'd be willing to get together a pool of a *few* people with a significant number of domains at their disposal to do reciprical SEO. -b.
Make a few Blogs, add content occasionally to keep it fresh and link to yourself. Make sure you use technorati.com for your blogs.
If you have a sitemap.xml on your server Google now finds them with GoogleBot. But having a Google Webmaster account is pricless.
I also use linksmanager.com for inbounds that do not penilize me for link farming.
Add a Comment
All comments are moderated before publication. These HTML tags are permitted: <p>, <b>, <i>, <a>, and <blockquote>. This site is protected by reCAPTCHA (for which the Google Privacy Policy and Terms of Service apply).