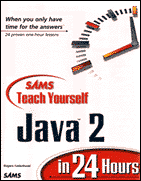 Welcome to the Web page for the book Teach Yourself Java 2 in 24 Hours by Rogers Cadenhead. This programming tutorial is a great way to learn Java from the grounds up. It's for non-programmers, new programmers who hated learning it, and experienced programmers who want to quickly get up to speed. The emphasis is on hands-on experience and fun projects.
Anyone can learn how to write computer programs -- even if they can't program a VCR -- and the Java language is a great way to do it. This book uses Java 2, so you'll be learning the most up-to-date way to create programs with the language.
Important Note: This book was originally published as Sams' Teach Yourself Java 1.2 in 24 Hours. It was retitled Sams' Teach Yourself Java 2 in 24 Hours shortly after the first printing. The reason for the change was Sun's last-minute decision to give JDK 1.2 the official name ``Java 2 SDK (version 1.2).'' JDK 1.2 and Java 2 SDK (version 1.2) are the same version of the Java programming language.
All readers should make note of an important change that affects the book:
The name change to the Swing package of classes described on Hour 13
Use these links for information related to a specific hour in the book:
Most recent additions to this site:
As promised in Appendix B, here's one link related to the Dallas Stars, offered solely because of the author's unconditional love of professional hockey: Official Ed Belfour Web Site.