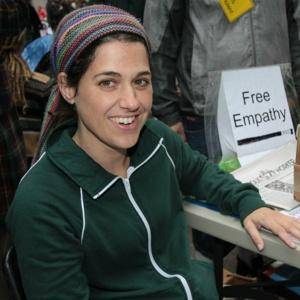 The New York Post is running a story today about Stacy Hessler, a 38-year-old Florida mom who's gone from her family while she takes part in the Occupy Wall Street protests at Zucotti Park. Hessler is raising four children at home with her husband in DeLand, Fl., but she came to New York City to join the protests on Oct. 9 and has no plans to leave:
I have no idea what the future holds, but I'm here indefinitely. Forever. ... Military people leave their families all the time, so why should I feel bad? I'm fighting for a better world.
The story makes it sound like she's just ditching her family, especially the nudge-nudge part about "keeping herself warm at night" in a tent with a male protester. The right winger Jonah Goldberg calls her mom of the year on National Review Online. When I read the Post story this morning, I used snap judgment skills honed in a decade of blogging to conclude that momma's getting her freak flag on.
But her Facebook wall tells a different story. She's extremely involved in her childrens' schools and sports and has posted hundreds of photos of the kids engaged in family outings. Hessler made this post when she decided to turn her week-long stay into something longer:
I have a plea for my friends. I need your help and support. I want to stay occupying wall st. I feel my presence is very important in the support of non-violent communication and sanitation(keeping the park clean) I am willing to work tirelessly on these efforts. I need help with getting my kids to activities and stepping up with the things I help lead, such as one small village, jr roller derby, bee-attitudes, 4H, for his glory co-op. Please respond if you are willing to help my kids so I can stay here and help this movement. I have a train ticket for tomorrow that I want to change but I need to know I have support from my community back home for my family in order to change the ticket.
No less than 12 of her friends are offering to help out. Sound like a bad mom to you? As Hessler's story is fed into the media sausage mill, I hope some reporters do a much better job telling it than Kevin Fasick and Bob Fredericks in the Post.