The August 2009 issue of Runner's World includes a Q&A with Alaska Gov. Sarah Palin about her lifelong interest in jogging. The interview reveals that she took an unreported fall while running with the Secret Service before the vice presidential debate and describes how Sen. John McCain loves being up a creek:
I used to joke around with John McCain during the campaign about coming jogging with me. And once I asked him what his favorite exercise was, and he said, 'I go wading.' Wading. He lives on a creek in Arizona, so he goes wading. That cracked me up.
The most newsworthy part of the story is probably the last question, where she affirms her support for Title IX, the gender equity law that requires schools to offer as many programs for female athletes as for males:
Is there anything else the world should know about you as a runner?

The only other thing I'd like to add is I've been very fortunate to be a recipient of all the efforts people put into Title IX all those years ago where girls got equal opportunity to participate in sports and extracurricular activities because sports growing up were my world. I'm so thankful for Title IX allowing equal access to these opportunities, and I'm a huge proponent of girls being able to realize what they're made of by participating in sports and whatever I can do there I'm going to be doing.
The story includes eight photos of Palin in running attire, and the last one shows that Palin still has a knack for turning a harmless publicity stunt -- like pardoning a turkey -- into a potential black eye.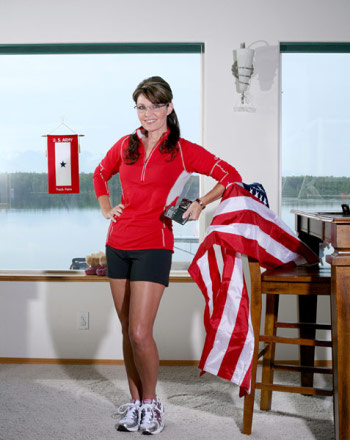 Palin's violating the U.S. Flag Code, which you can read on the American Legion's site, in how that U.S. flag is treated in the photo. Under the heading Respect for the Flag, the code states, "The flag should never touch anything beneath it, such as the ground, the floor, water, or merchandise." There's also a rule against using it as drapery.
Though adherance to the Flag Code is optional, some people take it pretty seriously, as the American Flag wall of shame demonstrates, and a lot of them are in what Palin would consider the "pro-America areas of this great nation." You shouldn't drape it over a chair like a cover you bought at Bed Bath and Beyond.
It's a wonder that Palin hasn't shot her publicity team from a helicopter.
Update: A commenter points out a picture of Palin wrapping herself in the flag that was reprinted in Newsweek and taken by Wasilla, Alaska, photographer Judy Patrick, who has included it in her Palin calendar.