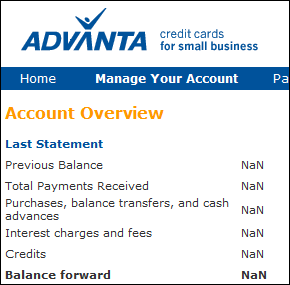 Advanta, a credit card provider for small businesses, announced today that it is shutting down all one million of its customer accounts on May 30. As a longtime customer I was told today via email that I must stop using the cards in four days. The bank has reassured me, however, that I may keep paying the bill after that date. "You may continue to pay down your account balance over time, as allowed under your Advanta Business Card Agreement," the email states. Since Advanta has been jacking up interest rates like crazy lately, as the Los Angeles Times reports, it would probably help the company if I took as long as possible to pay the remaining balance.
I've been relying on Advanta for day-to-day expenditures while running World Readable, my network of web sites. I fortunately have a second credit card, which I set up a while back when poppa needed two high-definition TVs. I should be able to switch all of my recurring charges for the business to that account.
Because Advanta provided almost no notice, I've been scrambling today to download all of my transactions and billing statements, which I need for tax purposes. Because there are one million people with a compelling reason to be using its web site today, Advanta.Com has been crashing worse than our country's financial system. At the moment, the site says that I owe a balance of "NaN" dollars in my account. NaN is a constant value that means "not a number" in several programming languages, including PHP, JavaScript and Visual Basic. It could be worse -- there's also a constant called Infinity.
The weblog Consumerist broke this story eight days ago and provides a followup explaining why the company is in such big trouble:
Advanta's customers defaulted last month at a rate of 20.15 percent, compared with 17.31 percent in March, the company said Monday in a regulatory filing related to the Advanta Business Card Master Trust, which bundles Advanta's small-business loans for sale to investors.

Outstanding credit-card balances at the end of April were $4.5 billion.
I know one of the disgruntled Advanta customers quoted by the LA Times:
Television writer and producer Bill Taub, president of Jabberwock Corp. of Los Angeles, didn't notice for four months that the interest rate on his Advanta small-business credit card had jumped to 19.99% from 7.99%. A call to customer service got it dropped to 10.99%, but he said his request for a refund was refused.

"That was outrageous," said Taub, whose TV credits include episodes of Hollywood Babylon and Relic Hunter. He hadn't yet heard that Pennsylvania-based Advanta Corp., which has been hit with rising losses in its portfolio, won't allow any of its small-business customers to put new charges on their cards after June 10.
Taub and I worked briefly together in 1994 for Zing Systems, an interactive TV venture based in Denver that went bankrupt years before banks and insurance companies made it cool.