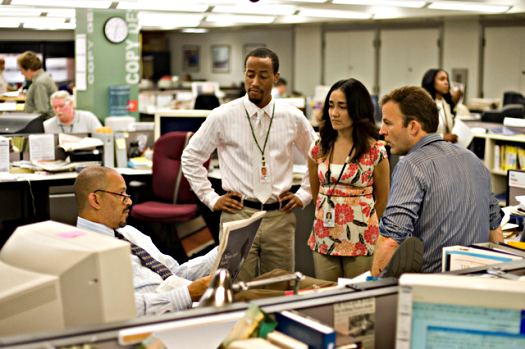 Debra J. Saunders has an impassioned rant in today's San Francisco Chronicle about how we'll all be sorry when newspapers are dead:
News stories do not sprout up like Jack's bean stalk on the Internet. To produce news, you need professionals who understand the standards needed to research, report and write on what happened. If newspapers die, reliable information dries up. ...

I wonder who will be around in five years to cover stories. Or what talk radio will talk about when hosts can't just siphon from carefully researched stories, because they never were written.
Saunders blames the web and ideologically motivated haters for the demise of newspapers, but she ignores the fact that major dailies have been dying for decades, long before the Internet came along. Back in the '50s when Saunders was a child, the legendary journalist A.J. Liebling devoted numerous New Yorker articles to the sad demise of major papers and the societal hole that each left behind when the presses rolled to a halt. The industry has been dying for as long as many of us have been alive. Multiple newspaper towns became two paper towns, morning and afternoon. Two-paper towns became single-paper towns, usually when one paper killed the other. I can still remember where I was on Dec. 8, 1991, when I heard the news that the Dallas Times-Herald had been bought for $55 million and immediately shut down by the rival Dallas Morning-News. When a paper dies, a sizeable chunk of its readership doesn't move to another paper. People just break the habit. Even though half the reporters in town were gone, I don't recall any stories in the News back then lamenting the stories that would never be written.
Now that even the last paper standing in many cities is at risk of closure, we're supposed to agonize over the loss in a way that those papers never mourned the death of their cross-town rivals. Does Saunders realize that every paper left in this country has been cutting costs by dropping experienced reporters and limiting beats as fast as it can? The reporting she thinks we'll miss -- enterprise stories, investigative reports and government watchdog news -- is already a shadow of its former self. Former reporter David Simon devoted the final season of his TV series The Wire to the decimation of his old employer, the Baltimore Sun. By the end his alter ego, a long-time city editor named Gus, had been relegated to the copy desk with his most knowledgeable reporters shown the door. Most of the experienced reporters and editors who do the kind of journalism Saunders celebrates aren't in the newsroom any more. They got fired, bought out or took early retirement.
Saunders also ignores the role that massive debt has played in the economic troubles of our remaining dailies. Newspaper chains and other big media corporations have been gobbling up papers for years by borrowing to the hilt, counting on future profits to stay fat. A July 2008 Bloomberg article shows that the newspaper chains were overleveraged even before the current economic bust. The blogosphere and talk radio did not make the Gordon Gekkos who own newspapers saddle their publications with crushing piles of debt that require constant cost-cutting to finance.
I love newspapers. I began reading the Times-Herald when I was eight years old, delivered papers as a teen, majored in journalism, married a journalist and got my first job out of college at the Fort Worth Star-Telegram. I will read them until the last one folds.
But if we really begin to see major cities left without a single daily newspaper, I believe that it will create opportunities for leaner, more focused, more Internet-savvy media operations. There also will be more altruistic efforts to cover the news, like what's happening in Southern California with the non-profit Voice of San Diego.
Voice of San Diego is a four-year-old, 11-member news outlet that's funded by charitable foundations and reader donations. It began with the mission to "consistently deliver ground-breaking investigative journalism for the San Diego region" and "increase civic participation by giving citizens the knowledge and in-depth analysis necessary to become advocates for good government and social progress."
I don't believe there will be no news without newspapers. If journalism meets an essential need for an informed citizenry, something else will arise in their place to meet that need.