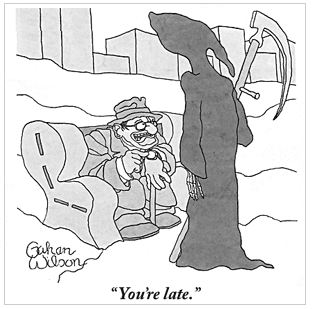 One of the best jobs I ever had was working weekends on the state desk at the Fort Worth Star-Telegram during the late '80s. I took calls from correspondents across North Texas, wrote spot-news stories and spent the other 98 percent of my time reading everything on the news wire. That job had a lot in common with publishing the Drudge Retort today, with the notable exception that you once needed a journalism job to gorge on an all-you-can-eat buffet of wire stories.
When you read news for too long, you develop weird obsessions. Back then, I became the world's foremost expert on Paul Tsongas and Japanese sumo wrestling. Today, I've become fixated on how the AP reports the death of the world's oldest person.
The world's oldest person has a high mortality rate (tough job), and every time AP covers the story using the same formula: who kicked the bucket, how old was she down to the day, what was her secret for longevity, and who's now the oldest person. (I'm using the feminine pronoun because it's always a woman.)
On Thursday, Edna Parker gave up the ghost at 115 years and 220 days old. Born April 20, 1893, she was a mother and schoolteacher who never tried alcohol or tobacco, spent 69 years as a widow and offered "more education" as her best advice for living. The newest oldest person becomes Maria de Jesus of Portugal, also 115.
When the oldest person expires, it moves the living memory of the world past a certain number of historic events, a concept I've dubbed the Line of Oblivion. Although it's a grim notion, I check Wikipedia to see what crosses the line each time the oldest person croaks.
When Parker bought the farm and the line moved forward to de Jesus' birth on Sept. 10, 1893, we lost the last person who could have remembered the stock market crash of 1893 (May 5), Gandhi's first act of civil disobedience (June 7) and the Sea Islands Hurricane (Aug. 27).
We also lost anybody who could have been on the friend list of the German philosopher Jakob Froschammer (died June 14, 1893), Stanford University founder Leland Stanford (June 21) and the actress Georgiana Drew Barrymore (July 2), the mother of Lionel, Ethel and John.
If this line of thought is too macabre, I blame a childhood spent reading the cartoons of Gahan Wilson.