I made the two-hour trek to Orlando yesterday to attend my first Barack Obama campaign rally, an event that brought 40,000 to 60,000 people to a plaza outside Amway Arena. Arriving an hour before the event, I knew to avoid the streets around the arena and parked my car at the Citrus Bowl, where buses were available.
Most of Obama's speech was so familiar I could have delivered it myself, as someone who has seen every one of the 30-plus debates he has participated in during this long campaign. One of his new remarks was a response to Sarah Palin's recent comment where she objected to the McCain campaign's use of robocalls. Obama said, "You have to work really hard to violate Gov. Palin's standards on negative campaigning."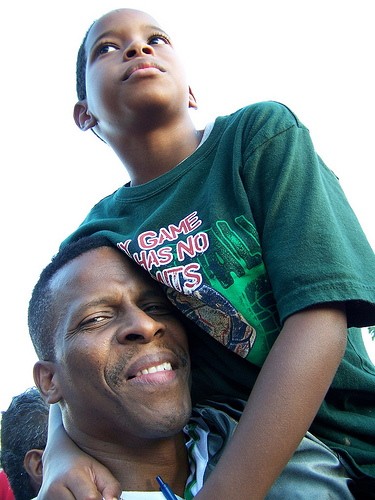 Hillary Clinton, making her first joint appearance with Obama since July, gave a sharp 15-minute speech that tied John McCain to President Bush's economic policies and touted the record of the last Democratic president on the economy. She coined a new slogan, "Jobs, baby, jobs!", that was chanted a few times by the crowd. For some reason, chanting is harder in person than it seems like it would be on television. I couldn't keep up with the speed of the crowd racing through "Yes we can!" and "O-BA-MA!", and I found myself wishing that Democrats had a few more well-practiced exhortations in our repertoire, like "U-S-A!"
Both Clinton and Obama focused almost entirely on economic concerns. "At this rate, the question isn't just, 'Are you better off than you were four years ago?'" Obama said. "It's 'are you better off than you were four weeks ago?'"
I needed too much personal space to get close to the stage, relying instead on a giant screen to follow the speeches. (You can find me in Flickr photographer Rob McCullough's crowd shot, where I'm an unshaven gray-haired smudge with a tree growing out of my head.) Throughout the event, black families, some with aging grandparents and young children, gently moved through attendees to get closer. Although the crowd was racially and generationally diverse, you couldn't miss the emotion of blacks who had come to see Obama's first event in the city. As an adopted Floridian who has learned the tragic history of race relations in the Sunshine State during my decade here, I had to marvel at the progress that brought some of the older Americans in attendance past central Florida's Rosewood massacre, Klan lynchings, poll taxes and the civil rights struggle to this amazing moment in time.
Despite the size of the crowd and the zeal of some attendees to get a better spot, I can't recall a large event I've attended where people were in a better mood. Even at the Citrus Bowl, where more than 2,000 people were still in line to get on buses 15 minutes before the 6 p.m. start of the event, I heard no complaints.
Stories from early voting sites across Florida and other states this week describe huge lines where people aren't leaving, no matter how long it takes. Looking at the bus line in Orlando and the faces of the crowdgoers who made it to the rally on time, I think there are millions of Americans who regard casting their vote this year as one of the biggest milestones of their lives. Turnout this year will be massive.
On the way back to the Citrus Bowl, as we drove through a dodgy neighborhood right on the outskirts of downtown, a car avoided an accident by swerving towards the bus and stopped a few feet from riders seated behind the driver. Even that near-miss didn't sour the mood.
Credit: The photo from the Obama rally was taken by Rob McCullough and is used with permission.