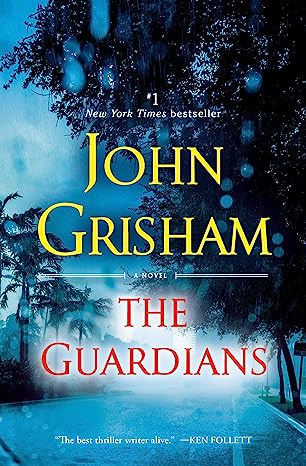 I recently finished John Grisham's The Guardians, a 2020 novel about an Innocence Project-type attorney and Episcopal minister working to free a man wrongly convicted of killing his former attorney in Florida. This is the first Grisham novel I've read since his early novels The Firm and The Client made him a household name. I once took a flight where I saw a dozen passengers with copies of The Firm. That book was everywhere in 1991.
Thirty-three books later, Grisham is still able to write a solidly plotted legal thriller that pulls you into the story and makes you care about the protagonists. Here they are the attorney/minister Cullen Post and the dedicated but criminally underfunded Guardian Ministries, which takes cases to free innocent people who've languished in prison for decades.
Quincy Miller is a Black man who has spent 23 years in prison despite there being no physical evidence presented at trial linking him to the murder and a dubious set of witnesses arrayed against him. Grisham was motivated to write this book by his longtime membership on the board of the Innocence Project.
The book's appeal comes from what it reveals about the legal processes required for an exoneration amid the turf wars, ineptitude, self-interest and outright corruption in the justice system. Post's interactions with cops, prosecutors and other attorneys were my favorite aspect of the book. Horrors abound explaining how bad convictions occur. A vivid example involves a former cop who becomes a dodgy blood stain expert testifying exclusively for prosecutors all over America. In Miller's trial he testified that drops on a flashlight were human blood, based entirely on his analysis of photos because the evidence had disappeared before he could examine it. Only after decades did his work become discredited.
One thing I learned from Grisham was that some countries do not allow the testimony of jailhouse informants:
"You never know with snitches. Professional liars have a way of laughing about their lies. Over his miserable career he's snitched in at least five other cases, all for sweetheart deals with the cops. He has nothing to gain by sticking to the lies he told your jury."

"I'll never forget when they brought that boy in, all cleaned up with a white shirt and tie. At first I didn't recognize him. It had been months since we were in the same cell. And when he started talking about my confession I wanted to scream at him. It was obvious the cops had fed him details of the crime -- cutting off the electricity, using the flashlight -- all that stuff. I knew right then that my ass was cooked. I looked at the jurors and you could tell they were eating it up. All of it. Every last lie he told. And you know what, Post? I sat there listening to Huffey and I thought to myself, 'Man, that guy swore to tell the truth. And the judge is supposed to make sure all witnesses tell the truth. And the prosecutor, he knows his witness is lying. He knows the guy cut a deal with the cops to save his ass. Everybody knew, everybody but those morons on the jury.'"

"I'm ashamed to say it happens all the time, Quincy. Jailhouse snitches testify every day in this country. Other civilized countries prohibit them, but not here."
Their use in the United States is appallingly common. The National Registry of Exonerations estimates that 50 percent of wrongful murder convictions involve perjury by a "jailhouse snitch or another witness who stood to gain from the false testimony."
The novel takes place across North Florida from Gainesville to Jacksonville, then in Orlando and Savannah, Georgia. As someone local to these places I was looking for authenticity and didn't find any.
There are two flashbacks where Grisham goes for shock value with grisly crimes -- once to explain how Post quit practicing law early in his career and another depicting unimaginable violence by a drug cartel.
Though The Guardians is an entertaining read it makes the mistake of never depicting the guilty parties responsible for the lawyer's murder. Post and his team laboriously track them down and lead the FBI to their capture, but we don't get the satisfaction of seeing their reactions to being caught. The novel keeps a laser focus entirely on the protagonists.
There was one character who did the most to frame the convicted man, retiring to a beachfront mansion with millions in the bank earned through using a government position to enrich a cartel.
I spent hundreds of pages wanting to luxuriate in that rat bastard's comeuppance. Post never even meets him! The novel's payoff is much smaller than one would expect from a story about a man going free after 23 years.
Add a Comment
All comments are moderated before publication. These HTML tags are permitted: <p>, <b>, <i>, <a>, and <blockquote>. This site is protected by reCAPTCHA (for which the Google Privacy Policy and Terms of Service apply).