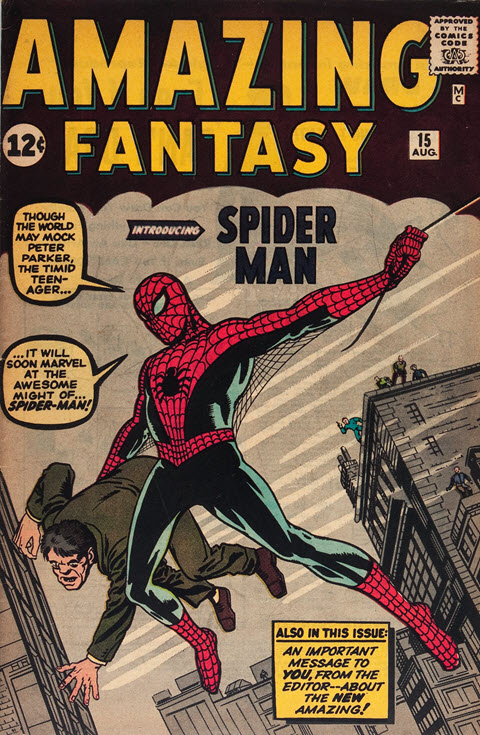 There's a marriage proposal in the lettercol of this week's Amazing Spider-Man 28:
As a lifelong Spidey fan, I never tire of reading about the adventures of our ever-friendly neighborhood Spider-Man. Even after over 900 issues, I say 900 more! Spider-Man means so much to me and my partner of over 13 years. We've been together for so long, and she recently gifted me (believe it or not) a genuine copy of Amazing Fantasy 15! I was flabbergasted! SPEECHLESS!

So I was hoping that the Spider-Team could help me return the favor in a monumental way. She got me the comic that introduced the world's greatest super-hero, so I'm asking if you could my message to her in the greatest comic series of all time!

Katie, I know you're reading this. The world may see Spider-Man as the greatest super hero, but you'll always be my super hero. You've saved me in more ways than I can count. You make me a better person and inspire me to live every day with great responsibility. Will you make me the happiest Marvel fan in the world and marry me?

-- Derek N., Queens, N.Y.
I need to know the grade of the Amazing Fantasy 15 copy that Katie gave Derek. Are we talking CGC 7.0 ($170,000 on MyComicShop.com), CGC 2.5 ($26,000) or ungraded coverless ($10,000)?
Add a Comment
All comments are moderated before publication. These HTML tags are permitted: <p>, <b>, <i>, <a>, and <blockquote>. This site is protected by reCAPTCHA (for which the Google Privacy Policy and Terms of Service apply).