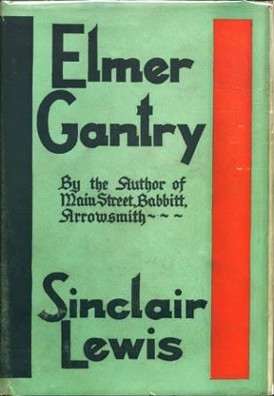 Elmer Gantry felt as if I'd read it already because the protagonist has been so widely referenced in American culture. Sinclair Lewis mercilessly skewers a narcissistic preacher who exploits Christianity to enrich himself and secretly commits every sin he fulminates against from the pulpit.
The book begins with Gantry as a hard-partying, anti-intellectual football star at a Baptist university, follows him into a career as a pastor he feels no calling to pursue and tracks for a quarter century his ups and downs (but mostly ups). Gantry's mistreatment of women, whom he adores until he gets them, was particularly cutting. Aside from some racial slurs and Gantry's brief flirtation with a 14-year-old girl being insufficiently called out as predatory, the book has aged well.
Lewis is a withering social critic. Elmer Gantry is less a biography than an indictment. It's rare to read a book about a character so disliked by its author. I've never wanted more to see a protagonist pay for his sins.
Add a Comment
All comments are moderated before publication. These HTML tags are permitted: <p>, <b>, <i>, <a>, and <blockquote>. This site is protected by reCAPTCHA (for which the Google Privacy Policy and Terms of Service apply).