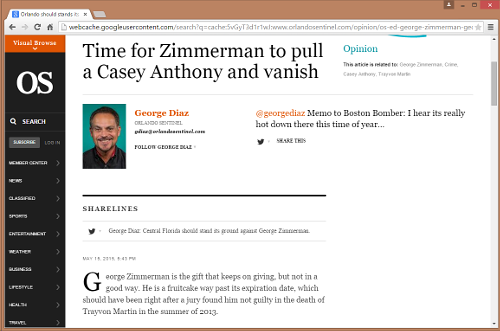 The Orlando Sentinel has dropped into the memory hole a commentary published Friday evening that called for the community to stand its ground against George Zimmerman. The piece, written by sports columnist George Diaz and titled "Time for Zimmerman to pull a Casey Anthony and vanish," was published at 5:43 p.m. and archived by Google two minutes later. As of 10 a.m. Saturday morning the commentary was gone with no explanation.
Zimmerman, who killed unarmed teen Trayvon Martin in Sanford, Florida, on Feb. 26, 2012, during a physical altercation and was acquitted of second-degree murder a year later, was shot at this week in a road rage incident in Lake Mary but escaped serious injury. The alleged shooter, Matthew Apperson, has been charged with aggravated assault with a deadly weapon.
The Diaz column included a sentence and headline that could be interpreted as advocacy of violence against Zimmerman. After quoting a jury instruction suggesting that Zimmerman could "stand his ground and meet force with force," Diaz wrote, "Perhaps the entire Central Florida community should file a motion to Stand Its Ground against Zimmerman."
The column had the subhead, "Central Florida should stand its ground against George Zimmerman."
Here's the full text of the spiked article:
George Zimmerman is the gift that keeps on giving, but not in a good way. He is a fruitcake way past its expiration date, which should have been right after a jury found him not guilty in the death of Trayvon Martin in the summer of 2013.

Zimmerman should have cashed in his chips that day after winning the lottery in the controversial spectacle of his trial.

By legal standards, the jury got it right based on the evidence that was presented. By the court of public law's accounting, Zimmerman burned up his "Get Out of Jail Free Card."

Most reasonable people have tried to move past the anger, despair and confrontational name-calling. Unfortunately, Zimmerman is not one of them.

The latest incident involving his road-rage dance partner, Matthew Apperson, only amplifies the controversial noise of the George Zimmerman soundtrack.

We've all dabbled in pop psychology when it comes to Zimmerman. Anger issues. Confrontational issues. Misunderstood Community Watchdog issues.

Whatever. All I know is that I am sick of him. Like that pesky cockroach, Zimmerman is always a step ahead of the big sandal bearing down on him. Annoying little fella, isn't he?

There are those who will whoop it up, celebrating that karma is catching up with a man whose reputation is forever stained with the blood of a dead teenager.

I'd humbly suggest the bad karma is on everyone who lives in Central Florida. Zimmerman won't leave, dooming us to eternal damnation. Our streets aren't safe with Zimmerman behind the wheel. Anybody could get nicked by a stray bullet intended for him. Any woman who is clueless enough to date him seems destined to end up in a contentious, volatile breakup.

Maybe Zimmerman is the unluckiest man in the world. Misunderstood. A Real American Hero.

In three domestic-violence cases over the years, the women involved either refused to cooperate with police or refused to press charges. Most recently, Zimmerman and Apperson added another chapter to their wild history that includes three incidents. Flying glass scrapped Zimmerman's face after Apperson fired a shot. Apperson claims that he had been threatened by Zimmerman. No charges have been filed against either man.

But a basic fact is that the common denominator involving these forms of mayhem is Zimmerman. Innocent or not, he is a magnet for trouble.

So let me offer up a "Get Out of Central Florida Free Card."

Here's a thought: Pull a Casey Anthony. She also wiggled free after standing trial in 2011 for the death of her 2-year-old daughter, Caylee. But at least Anthony had the good sense to jettison herself into a self-imposed Witness Protection Program.

We haven't heard much from her, have we? The "Tot Mom" was reportedly last seen a few days ago, wearing aviator shades and a baseball cap while jogging in West Palm Beach. That's the ticket.

Incognito. Lay low. Out of sight, out of mind.

But no, Zimmerman keeps getting into legal dust-ups -- ex-wife, girlfriends, random strangers. Could we be next?

During Zimmerman's second-degree murder trial, his attorneys told jurors that he feared for his life when Martin, a black 17-year-old, attacked him. The judge in the case included the possibility that Zimmerman "had the right to stand his ground and meet force with force," as part of the jury instructions.

Perhaps the entire Central Florida community should file a motion to Stand Its Ground against Zimmerman.

Does Zimmerman need a notarized statement? An online petition? Do we need to start a Gofundme campaign to help pay for Zimmerman's bus fare?

Zimmerman certainly has our attention. The online data from orlandosentinel.com and other websites reflect his click-bait skills. People dig the stories. But it's mostly freak-show appeal.

Zimmerman is Internet eye-candy with a bitter aftertaste. Can't get enough online? Check in with Nancy Grace tonight for more details.

Dear George: Be Like Casey.

Leave. Now. Forever.
Comments
I'm not a fan of Zimmerman. I believe he is guilty of a homicide even under Florida's laws. That said, this was a bad column that was posted 2 minutes too long.
All young men who apply this will LIVE!
Exactly right on. Thank you.

Add a Comment
All comments are moderated before publication. These HTML tags are permitted: <p>, <b>, <i>, <a>, and <blockquote>. This site is protected by reCAPTCHA (for which the Google Privacy Policy and Terms of Service apply).