There's a video going viral of a student running onto the field at the Ohio State/Cincinnati college football game Saturday night and receiving a ferocious open-field tackle by Ohio State strength and conditioning coach Anthony Schlegel to the roaring approval of the home crowd.
Press reports indicate that the student is Anthony James Wunder, a 21-year-old senior in mechanical engineering who is an Evans Scholar, a full tuition and housing scholarship for golf caddies based on grades, character and financial need.
If you're wundering what would make a college student put his academic career in peril so close to graduation with such a goofy stunt, the answer probably can be found in one of the photos of the incident from The Lantern, the student newspaper at Ohio State.
Take a look at the weird fanny pack Wunder is wearing as he's marched off by stadium security: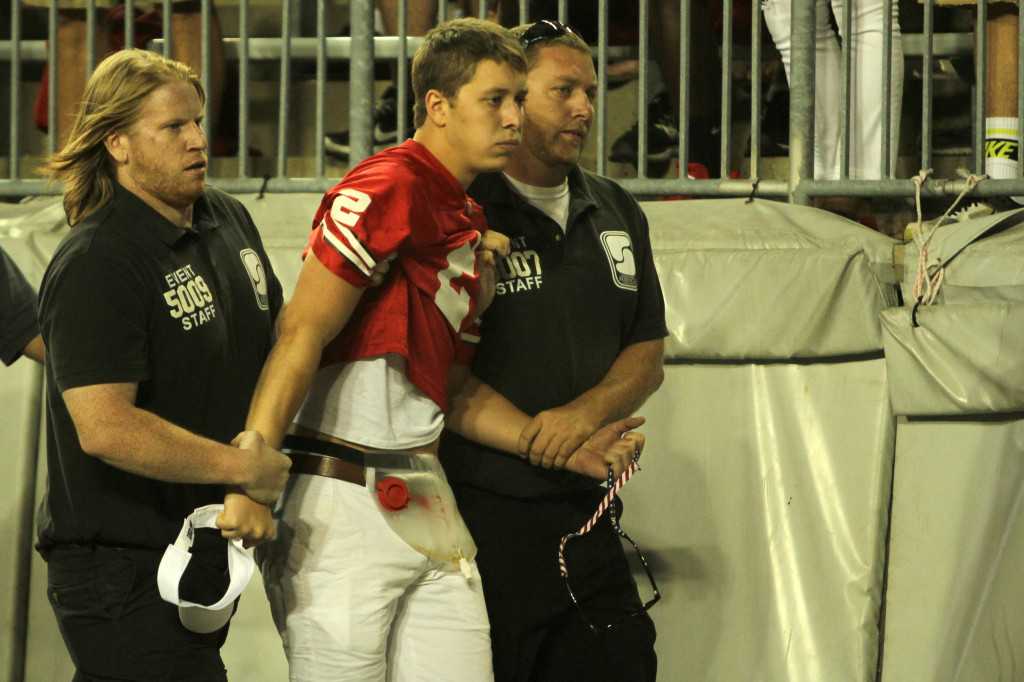 The distinctive red cap indicates that it's a Freedom Flask, secret plastic panties that hold 32 ounces of "your favorite beverage." The photo appears to indicate that Wunder's booze briefs were running on empty before his dash to infamy.
The Freedom Flask, invented by a former University of Georgia student who tired of sneaking alcohol into sporting events, requires pouring yourself a drink through your pants. The site offers this reassurance to potential purchasers: "If you think it may be awkward pouring a drink from your fly -- it's not. What's awkward is being the guy who gets his flask taken by security. To be honest, we wish we would have thought of this sooner."
Comments
Bad form...He should have hit him lower with his shoulder, wrapped his arms and kept his feet moving and driven him into the ground.
'Wundering'? You must be a Ohio State graduate.
His name was Wunder. Get it yet?
Add a Comment
All comments are moderated before publication. These HTML tags are permitted: <p>, <b>, <i>, <a>, and <blockquote>. This site is protected by reCAPTCHA (for which the Google Privacy Policy and Terms of Service apply).