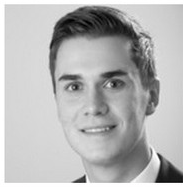 Moritz Erhardt, a 21-year-old intern at Bank of America Merrill Lynch in London, died recently as he neared the end of a seven-week summer internship. He'd been working a grueling schedule in an investment bank division that was "notorious for the hours workers are expected to clock in," writes Ruth Margalit of The New Yorker.
Friends said Erhardt had been keeping enormously long hours -- working all the way to 6 a.m. three days in a row shortly before he collapsed in his shower -- leading to speculation that the ambitious business school student worked himself to death.
The idea of a young white-collar employee dying from overwork was novel enough for the story to become news across the world, but it's one I've been familiar with since hearing about Yale Jared Weiner 18 years ago.
Weiner was a lawyer who died in 1995 at age 27. He had a pre-existing heart condition and the huge workload he was under at his law firm was too much for him. I remembered him because of a page created in his honor by Rebecca Eisenberg shortly after he died. Eisenberg, an influential early web writer and essayist, wrote this in tribute:
on october 31, 1995, one of my best friends and favorite persons in the world, yale jared weiner, passed away at age 27. yale was a truly good, kind and generous individual, always eager to place the needs and interests of other people before himself, and always able to see the silver lining in even the most seemingly hopeless situations. yale had a unique ability to cheer people up with his cynical sarcasm, corny humor, and somewhat nihilistic philosophies.
I don't think I knew Eisenberg yet back then, except as one of the seven cast mates on an online version of the Real World called GeekCereal that an online community called Cyborganic created and then shuttered, long before it could have been snarfed up by the Internet Archive to be used against them later. (I got to know her through Michael Sippey, who's like a platonic matchmaker for early web nerds.) Today, Eisenberg's better known for her work as the general or senior counsel at Reddit, Trulia, AdBrite and PayPal and as a founding board member of Craigslist.
Her friend's tragic story stuck with me because when he died, I was in my twenties and still in the phase of life where you could believe yourself indestructible. I worked too much, slept too little and (most importantly) drank too much, then got up the next day and did it again. I also lost a friend to a heart ailment at age 27 in 1995. Matt Anderson, my coworker at the Denver interactive TV startup Zing Systems, collapsed and died on a basketball court of an undetected problem related to mitral valve prolapse.
If you're reading this in your twenties, please keep in mind that you are not indestructible.
Add a Comment
All comments are moderated before publication. These HTML tags are permitted: <p>, <b>, <i>, <a>, and <blockquote>. This site is protected by reCAPTCHA (for which the Google Privacy Policy and Terms of Service apply).