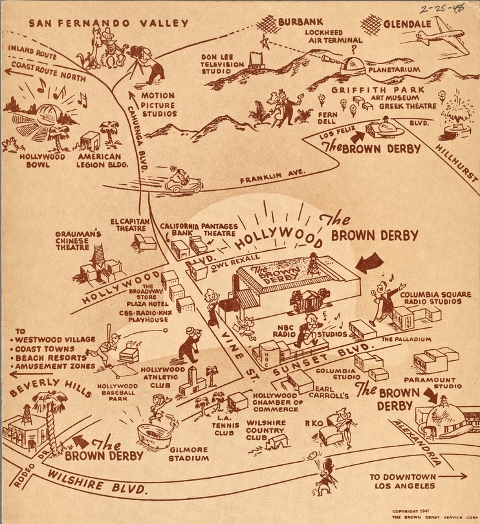 I found a cool resource today for writers of fiction set in past decades. The New York Public Library offers a historic restaurant menu database of 45,000 menus dating back to the 1840s. So far, 16,000 of the menus have been transcribed and volunteers are needed to help with the rest.
If you were thinking about eating at New York City's Louis Sherry restaurant at 300 Park Avenue in 1947, the smoked salmon appetizer, Catskill Mountain smoked turkey, fresh strawberry tartalette and Ballantine's XXX ale would set you back $4.60.
At the Brown Derby in Hollywood a year later, the famous Cobb Salad dish invented at the restaurant cost $1.50, is mixed at your table and has this description: "Chicken, crisp bacon, avocado, tomato, eggs, chives, Roquefort cheese, lettuce, romaine, watercress, chicory) all chopped fine served in chilled salad bowl with old-fashioned Derby dressing."
Add a Comment
All comments are moderated before publication. These HTML tags are permitted: <p>, <b>, <i>, <a>, and <blockquote>. This site is protected by reCAPTCHA (for which the Google Privacy Policy and Terms of Service apply).